The television camera is the eye of Sauron.  Key hole surgery down the perianth of plants, peering behind cordoned-off places and practically staring up the nostrils of the horti-stablishment. So why bother to go there  to the Chelsea Flower Show in person? [caption id="attachment_2569" align="aligncenter" width="480" caption="planting on RBC Blue Water Roof Garden"]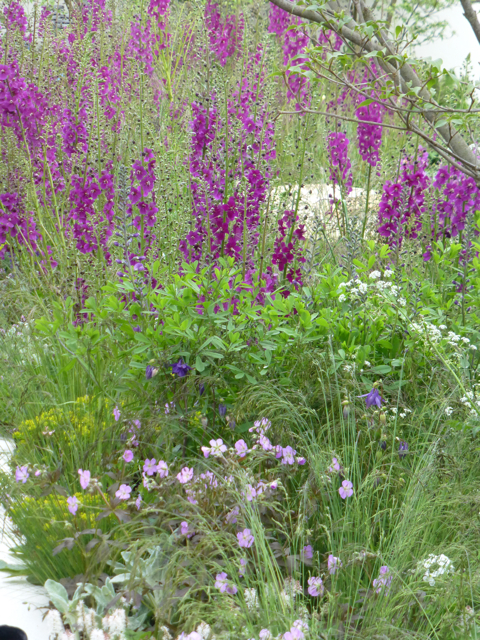 [/caption] Is the lure the blitzkrieg of celebrity?  The heavy odour in the air of the saltpetre of Mammon?  Is it to look at the conservatories, ride on mowers and recycled metal warthogs from Kenya?  The desire  to be jostled in a crowd, wishing you were at least half a metre taller?   Or the oxygen of the company of the too-loud look-at-me-people?  An emphatic NO to all of these. It is for the passion  and enthusiasm of growers, of  designers and of their friendly sharing of their knowledge.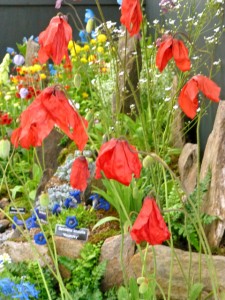 I visited yesterday and pretty early on went into the Grand Marquee.  Here my attention was grabbed by
Meconopsis punicea.
As I stood and chatted to the people of Kevrock Garden Plants, it was unfolding itself from its buds, almost visible to the naked eye in the unshaking of its scrumpled petals.  Stella and David Rankin specialise in rare plants from around the world.  "We study plants in the wild to learn how to grow them well". [caption id="attachment_2558" align="alignleft" width="225" caption="Francesco Mantero, composer"]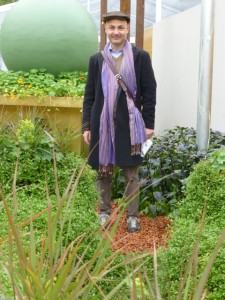 [/caption] Outside Anna Piussi was handing out leaflets and charm offensive beside her Sonic Pangea Garden, co designed with Stefano Passerotti.    Stunningly simple in plant palette "it helps to have a small budget" - a lot of black chilli plants planted into a thick mulch of hazel shells.  Sponsorship by Sabo oils had secured these.  The real cause to stop, stand and enjoy their space is the lovely woodland noise  which flows off the stand.   Francesco Mantero,  composer, explained that he had gone into the wood, recorded and mixed.  Could this lead to a fashion in embedded sound in small gardens? Just along the aisle and rather too close to the rubbish collection lorry, a sassy trio of 3 first year garden design students from Capel Manor, calling themselves JAM, had won a competition to convert  a large metal column.  They had interpreted the brute metal as a giant bird feeder and clothed it with nests, easy native plants and a message to look to the care of the environment.   Look out for this so-called 'Bird Columny', it heralds an ever louder and stronger pulse underlying Horticulture's duty to the planet. The planting at the Olympic park has made Professor Nigel Dunnett  well known in horti circles.  He is the designer for the RBC BLue Water Roof Garden.  His  manifesto:  "Planting as an art form:  ecologically-tuned, aesthetically aware. Planting as an essential:  creating healthy cities and liveable places." Rolled out along the front of this show stand is a mouthwatering combination of plants: 
Verbascum phoenecium 'Violetta', Allium schoenoprasum, Festuca amethystina, Stachys byzantina, Delosperma cooperi,  Sedum
rupestre 'Blue Spire
' and last of all
Sedum spathulifolium 'purpureum'.
All are drought tolerant and Dunnett has taken this recipe from one of his green roof projects.  Two cautions  if you want to copy - short lived but re-seeds and make sure the substrate is 20cm in depth. Back once more in the Marquee, I stood  quietly at Crug plants stand and eavesdropped.  "Hardy or not?  "I'm going to grow it on in my garden at the foot of Snowdon first."  "Of course - it is all in the humidity."  I hardly dared admit  to Sue Wynn-Jones  to living in the driest part of the UK.  She gave me  Crug Farm [caption id="attachment_2565" align="aligncenter" width="480" caption="Crug Farm Plants"]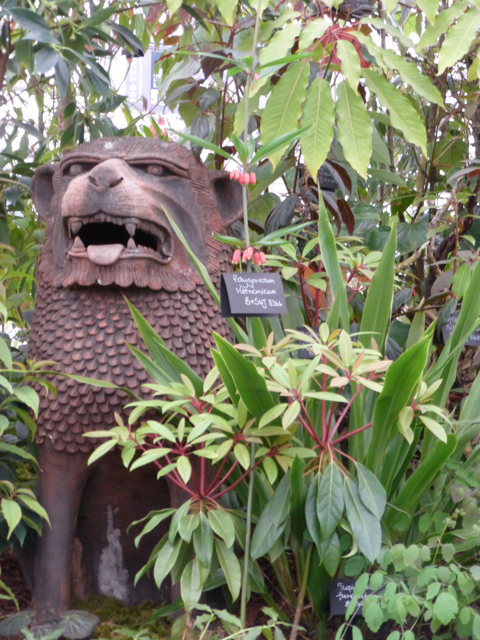 [/caption] Plants list, told me to visit and there would be plants suitable.  The list reads like the menu at the Fat Duck but for plants. Last stop, the Hardy Plant Society stand.  It was  quietly inspiring and i aim to join them and let the force of plant mania take over.  I thoroughly recommend that you visit all of these stands.