It is always at the Chelsea Flower Show but it's easy to ignore it. [caption id="attachment_2615" align="alignleft" width="300" caption="kinetic piece David Watkinson"]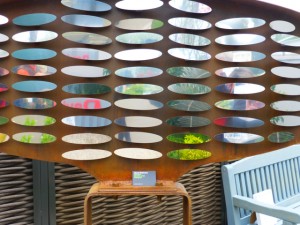 [/caption] The stalls that pin themselves round the Show Gardens and in the folds of the Great Tent are pop up shops.  Amongst the forest of teak benches and at either end of the spectrum there are some incredible things to look at or buy.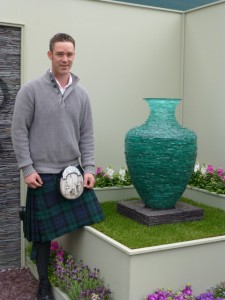 Hunt about and the work of up and coming designers, sculptors and kinetic artists can be found.   Three stood out.   James Parker, who has made a name in dry stone sculptures,   has turned to glass.  This is his covetable light-catching urn of recycled glass.  Price tag apart, this pot would have gone home with me. Matthew Maddocks makes fantastic stone sculptures. His stand is swallowed by  a slate whirlpool like a giant marble run with a pump constantly looping the water.  This alone would make a small lean town garden sing. Up and come, with a public comisssions under his belt, my last choice is David Watkinson.   Many of his forms copy and enlarge nature, but I loved this abstract piece, shimmering and reflecting under the brisk sky. So you see, quite easy to steer clear of the gorilla, nymphs and giant snails.