This weekend I went to Fibrex, the nursery for pelargoniums, ivies and ferns. The unlikely name comes from a long family history in nursery growing which started out as a rose business. The family bought it from a man who had a clever notion of how to pot the roses up for sale. An unfashionable recipe of clay and peat. [caption id="attachment_2646" align="aligncenter" width="480" caption="Polystichum setiferum"]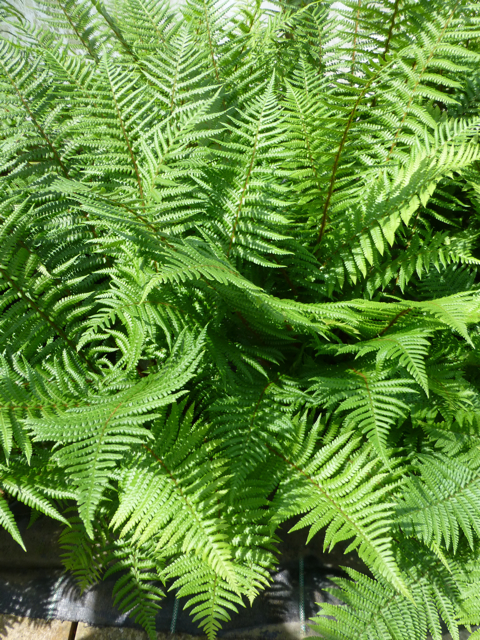 [/caption] Anyway, roses are no more nor is that packing gloop. But for expert advice on any of the three types of plant above - hot foot it to this part of the Cotswolds and look round the greenhouses and growing tunnels and find plants that will perform in difficult places or to an exacting specification.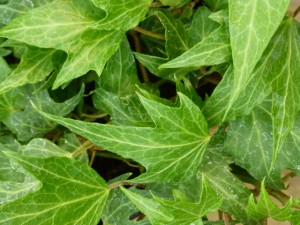 I have a customer who wants to clothe all the renovations of her house in evergreen foliage. I photographed all the different problem walls and raised beds and sent it in to Fibrex. Ivies were a strong candidate as I've seen them growing as fedges and like the fact that they do not bush out and grab space. (It could be called two-dimension growing). The national collection of hederas, 300 plus, are here and so I knew, that if anyone could advise on what ivy, where, it would be this nursery. When I arrived on hot, quiet Sunday, lost in the drowsy hawthorn laden lanes of Warwickshire. the shade tunnels, greenhouses and poly tunnels were open to wander in and I did so with expanding feet and shrinking shoes.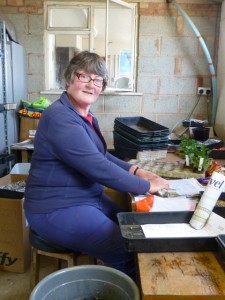 I was joined by Angela, post-room lady, plant propagator, owner of the Knowledge and the nursery too. She was busy wrapping little pelargonium plants in newspaper for despatch. But she pushed the cat and her work to one side and came and talked me through the appropriate ivies for my needs. The differences are subtle and I have come home with a range of photographs to show my punter. We are into nuances of plants - leaf shape and size and tones of green and habit of growth of course too. Advice on planting, feeding and establishing got meted out. (A post on all this will follow) Not only that - ferns for dry shade "don't even start me on that" she cheerfully admitted to her geek status as fern nerd and walked me round an exceptionally alluring shade tunnel. The names of those suitable for that exacting location, were reeled off and scribed at a gallop into my notebook.
Dryopteris felix mas, Polystichum setiferum
and
Polypodium vulgare
. Sounding as primordial as they look.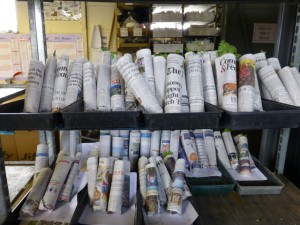 And how could I resist the last in the trio? Half open doors into matronly greenhouses bid me peer into the heat and miasma of pink and salmon. These pelargoniums were second to none, and after a discussion on impact and colour, I was steered to Lady Bute to give me wow occupants for my summer pots, to be teased and tempered by
Pelargonium australe tasmanium
. Back in the packing shed, I slurped a cup of tea and munched a proffered chocolate brownie, while the pelargoniums were furled into newspaper cones, in a backdrop of walls of cardboard gold medals and other awards. "After Chelsea we used to have to take on extra staff to field the amount of people that would come to the nursery". They don't come any more. It was just me, Angela and the cat on this hot first day of summer. If you equate Wyevale with Tesco, then this sort of nursery is by analogy a delicatessen. Plant lovers need to seek out Fibrex and places like this because it is the knowledge of growing that is vital. You will not get that in the Dutch trolley world of plants shrink wrapped and bussed in.