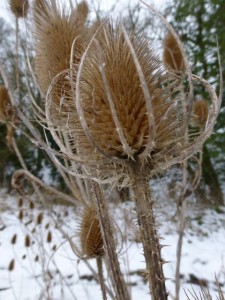 Well you can brush them over your billiard table to raise the nap.  Or point the finches in the right direction for winter feasting.  The seedheads of teasels are now not so very  more than  an eye-catching piece of design.
Not so in the past.  They were vital tool in the wool industry and the spiny heads were used to 'tease' out the separate fibres of wool before spinning.
Why are they so useful?  They have superior hooked spikes covering the flowerhead.  These can brush over your baize or the silk of a top hat with a 'give' that means they do not rip the cloth.  So they skate and bend over any irregularity in the cloth.  A case of Nature being more savvy than machinery.