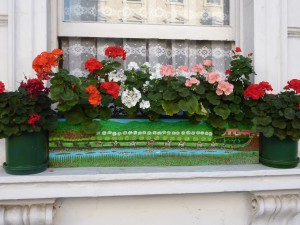 Hmmmmmmmmm, those tidy little planted patches outside slick offices. An urban phenomenon. Downtown there are guys who are primping the spotted laurel nestling with showy cyclamens. It all looks so cool. My remit is to go a little outside the oh-so-smart financial areas and see how the free-style window box is making a mark. Well, Pimlico serves the idea. Side by side in spitting distance of Victoria Station, I see a splendid take on the beautiful and the damned.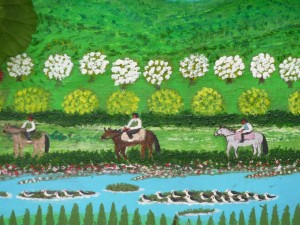 To the left, a classic showing off of the geranium on the windowsill. Pelargoniums, old fashioned types, bright red, nothing controversial. The window box has an epic horsey scene painted on the container. Someone loves this miniature plant garden and takes an interest. It is perfect and lovely.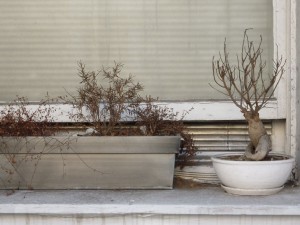 Eyes right and disappointment kicks in. An effort has been made but then, oh dear, no-one watered, looked out of the window, took an interest at all. So here we have the dead to look at. Juxtaposition. Love it. It would be so interesting to know why the guys on the right hand side did not get round to watering. Oh lovely randomness of gardening. Anyone who is a window box boff please send me a message and a picture!