[caption id="attachment_329" align="alignleft" width="300" caption="Cattleya Orchid and 3 Hummingbirds. 1871 oil on panel MJ Heade. c National Gallery of Art, Washington DC"]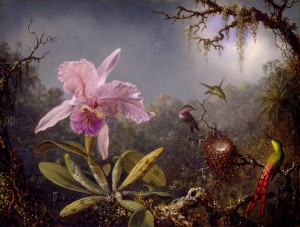 [/caption] Victorian influences will converge at the Chelsea Flower Show next week.  The Royal Horticultural Society was given its charter by Prince Albert in 1861.  The forerunner of Chelsea,  the Great Spring Show, was held that year  in Kensington Gardens.  Shows and exhibitions were massively popular and the public flocked to gaze at the latest wonder brought in by the Victorian plant hunters.  They would have been very at home in the press and hubbub of today's Chelsea with its vast marquee and floral exotica from far-flung lands. One of this year's  show gardens  "The Victorian Aviary Garden" with its  commanding peacock pavement and an airy aviary as theatre set and backdrop,  will be an eye-catcher. Maggy  Howarth, famous for her pebble mosaic-work has created a 12 metre square peacock tableau with washed limestone pebbles from Anglesey (collected under licence), blue slate borders and the use of lapis lazuli for detail.  It sets off the large aviary to perfection. [caption id="attachment_331" align="alignleft" width="300" caption="detail of peacock tail by Maggy Howarth"]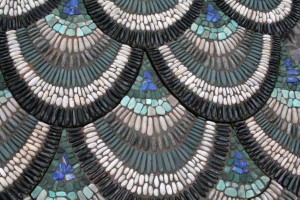 [/caption] The  co-designer of The Victorian Aviary garden,  Jonathan Denby, is a true  Victorian connoisseur.  Research for the aviary took him in and out of two books.  The first,  'Rustic Adornment for Homes of Taste' by James Shirley Hibberd (1825-1890).  He was the first popular garden writer, a Victorian and clearly a landmark type (self taught, confident and ubiquitous:  he was a man who got things done).  The second, slyly Edwardian but an excellent reference, was  "Garden Ornament"  by Gertrude Jekyll.  (1843-1932) Certainly she came a little later but her childhood influences were steeped in Victoria's reign. Darwin's double centenary been a catalyst for all things Victorian.  Stuffed animals  and visits to the zoo had been nudged over by wide-screens and exotic travel.  Captivity, even with breeding against extinction, has had a frisson of cruelty.  And why bother? What need have we to go and gawp at feathers atop withered legs when we can hop on a plane to the Serengeti? An exhibition of the life of Charles Darwin at Cambridge's   Fitzwilliam museum  made me  throw those preconceptions out with the bathwater.  The display  was so wide-ranging and colourful that I came away  mind spinning..  Above all, plaster reconstructions of cliffs with seagull colonies and bits of recreated forest for lurking moose to skulk in, were real and engrossing. We exhibition goers, breathed heavily on the plate glass and marvelled.   We glimpsed  the excitement of living in an era of discovery, returning with  the new and exotic.  Darwin was back from his voyage of four  years on The Beagle one year before Victoria came to the throne.  If we set the scene with her coronation, the date is 1837 and a galloping affair with natural history is in full spate.   The Beagle returned  groaning with cages of exotica, glass cases stuffed with birds and  innumerable plants and seeds.  In America,  Audobon was still painting his meticulous bird pictures and in London the Royal Zoological Society was beefing up its big cat collection.  The world rolled before a floodgate of the wonders of the planet.  And hand and hand and within a decade, the publication of  'The Origin of  Species'. New birds and specimens from the plant hunters were being passed round the globe.   The times were heady and daredevil  - from the glass ark of the Crystal Palace down to  the small dome containing finches in the village parlour,  society was out to have a slice of nature. Taxidermists had their hands full with stuffed fish, mammals, birds all in vogue.  But for true snobbismo and boasting, an aviary became the outdoor object that was most desired. We are talking of a large flight cage here, so that the guest and garden stroller could happen upon the structure and see the exotic bird showing its iridescent plumage with some space to grace the display of stretched wing and arched tail.  It was all part of the excitement of a shrinking world. The large aviaries that remain from those times tend to be wonderfully complicated structures, playing arabesques and flights of fancy with the building materials - there is a garden within a garden designed round them at Champ de  Bataille  in Normandy and in the gardens of the Villa Borghese in Rome you will see the most elaborate bird cage constructions on high above the stucco buildings, resembling dressmakers dummies.    Waddesdon Manor, seat of the Rothschilds in  Buckinghamshire and now belonging to the National Trust, has an aviary installed as a commemorative piece for a visit by the Shah of Persia in 1885.  Built of cast iron and massive, it was the inspiration for the aviary in the "Victorian Aviary Garden". And so to the construction details of the modern aviary.    The Waddesdon one is of massy cast iron.  The modern Chelsea model is altogether  a lighter affair, made from galvanised steel and timber.  Jonathan is clearly also a man who does.  He did his research and for building this complicated bird cage cast round for experts in Victorian construction.  The final partnership ended up with him and the local blacksmith designing, tinkering, altering and rejigging  to meet the spec. A fine add-on to the project is that aviary and the entire show garden will be removed from London and re-built up in the Lake District in the grounds of one of Jonathan's hotels,  The Newby Bridge, near Windermere.   Hard-landscaping materials are all indigenous to that part of England: stone walling from defunct dry-stone walls and the lovely Brathay blue slate, subtly veined, from the Lake District.  Detailing has come from "Garden Ornament" - Jekyll is a stickler for minute and correct detail:  an example - the risers of steps must have a certain overlap to create shadow. Undoubtedly we have a proper Victorian garden on  the man-made front.  What about the appropriate plants though?  Step forward Philippa Pearson, second designer for the Chelsea project.   She sent me the plant list yesterday.  There is a definite muzzle of restraint here on the sensible grounds of more is less.  Research on Victorian plants has been the guiding inspiration.  And it is inspiration rather than slavish copying.  It's an interesting point with historic gardens that cultivars or improved forms of plants have been bred.  The debate is whether to use them or not. [caption id="attachment_334" align="alignleft" width="225" caption="Iris Jane Phillips at Brocket Hall"]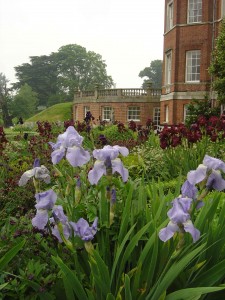 [/caption] Philippa's  plant choice looks so delectable that I want to tuck in and eat some.   Start in with an appetiser of various ferns.  Ferns in particular where particularly loved by the Victorians.  Amongst those chosen for this garden: 
Asplenium scolopendrium, Dyopteris crassirhizoma
and the wonderfull titled
Leptinella squalida "Platts Black'.
Before heading on to
Astrantia major Claret
, 
Aquilegia Nora Barlow
and the incomparably lovely
Iris Jane Phillips:
Queens all of the cottage garden and old favourites. This article first appeared in the Victorian magazine blog on 18th May, 2010.  
www.thevictorianmagazine.com