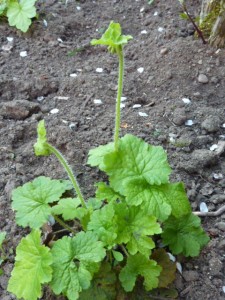 I've just been for an early morning stroll in the garden with bare cold feet.  Peering into my flowerbeds, its time to report on the success or not of those plug plants that I wrote about last month.  I am totally in love with
Tellima grandiflora,
seen elsewhere as ground cover for shade, so snatched a picture of my little giraffy specimen. Some stats - I bought 240 and planted 180 on March 5th.  Weather here - until this week - has been very dry and our soil is sandy.  I have weakened only once and got the watering can out. Survival rate of plantings:  80% thriving - particularly
Tellima grandiflora
, columbines and
Campanula persicifolia
.  Not sure what, if anything, will flower this year.  10% sulking - the foxglove called
Digitalis x mertonensis
seems to have shrunk recently. 7% dug up, chewed or sat on by puppies and a mere 3% just walked out when I have not been looking. 60 remaining plants got potted on by me and - embarrassing - they are still sitting outside the back door.  Could plant them as a second wave - tenacious survival in my rabbit view on the wind lashed side of the house will be interesting.  I'll keep you posted.