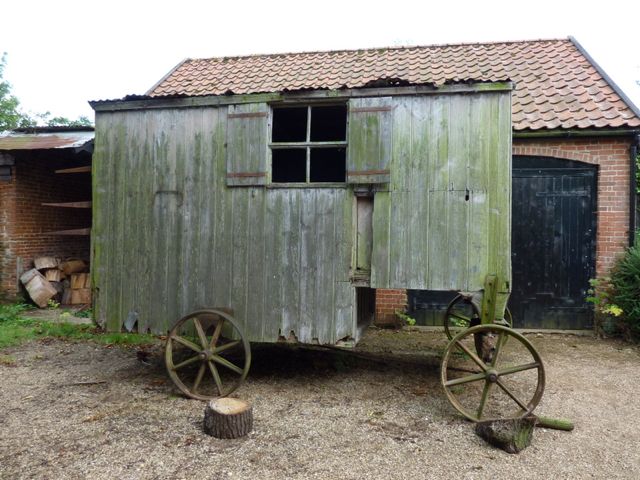 This shepherd's hut was found rotting in a spinney with young trees thrusting their way through its rib cage.    It must have been a pretty spry place to see the ewes through lambing.  Warm as toast with the shutters pegged fast, the little cast iron stove pumping out heat.  Hens cooped under the bench to give a supply of fresh eggs.  A fairly roomy bed on a platform over the chassis.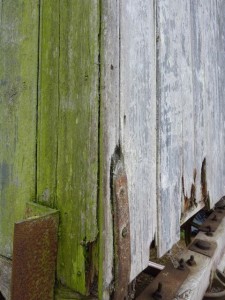 Dragged into the wood and given over to a store shed for pheasant grain.  The wheels were chewed down into the mud and  the  body of tongue and groove paneling wet as blotting paper under the tree drip.   It gave a glimpse of life pre-car, telephone, electricity.  The shepherd would leave the farm and live cut off until the lambing season was over.  January and February under the tin roof out in the fields, well away from  human company. It was touch and go as to whether the hut could be brought out of the wood and down the hillock in one piece.  It had been left to go and nearly had.  A JCB forklift truck managed to pick it up and delivered it skewered-olive style down our drive.  There the hut lived for a season under a giant tarpaulin.   We drew breath for a renovation project that was  knocked to the side by a house move. And so the lovely old green and worn out hut was up for sale.   A taker come to lunch, paid in cash and arranged for the hut to go to Studley Castle.   A year has passed and I am guessing that by now the new lease of life has overtaken it.  I am pretty sure he said the hut would be used on the shoot for lunches.  But if we could have stopped it decaying, frozen it in the moment it parked up outside, that is how I would have preferred it.  The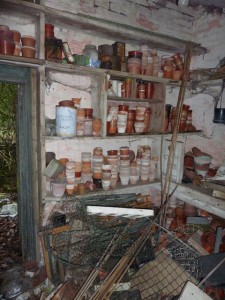 patina of age was on it:  mouldy straw in the coop and a thick old beer bottle of two in a corner. By the same token I love old sheds  with a bit of the dishevel on them.  Salt-rimed terracotta pots stacked up in an abandoned potting shed.  These old things conjure the past  in the way that new and shiny never can.