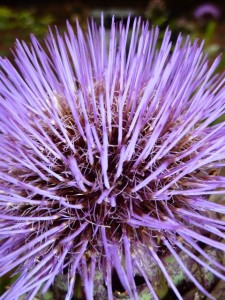 August is a time for frazzled lawns, thistledown parachutes and gaps in the flower-beds.  In the East of England, drought usually kicks in.  Here is a handy list of how to combat that drat drought weather.  As ever, the way is to work with nature.
Get your soil right.  This winter incorporate humus rich material - this will improve both sands and open up clays that crack with lack of rain.
Right plant, right place.  Be rigorous and avoid any plant that wants cool, moisture retentive soils.  A good choice will be silver leaved plants;  they  come from Meditteranean.  So lavenders, sages, rosemaries all aromatic and will go thirsty
Bare earth dries out and provides a seed bed for weeds.  Weeds will compete for water and nutrients.  Zero tolerance for weeds, therefore.
Mulch your flowerbeds. This will discourage weed seeds from germinating .  Moisture will be conserved too.    Leafmould, spent mushroom compost, gravel, woodchip or shards of slate.  All these can be used as mulches.
5.  Cut back perennials in mid summer - a good treatment for catmints, hardy geraniums, and delphiniums for starters.  This will bring on a second flush of leaves and flowers right through to the first frosts.
Water wisely -  give plants a good soak once a week rather than little and often.  The aim is to encourage deep roots rather than shallow thirsty ones.
Time of the day to water - early morning is the best.  Avoid watering in bright sunshine.
Keep plants healthy.  Look out for early arrival of aphids and cut off and burn infested stems and buds.
To solve the problem of bare gaps in a newly planted bed, sprinkle in the seeds of annuals to give colour and cover while the perennials and shrubs get going
Top Ten Drought Plants of the Day:
Perovskia atriplicifolia, called Russian sage - white bleached stems with intense blue flowers at the autumn end of summer
Allium sphaerocephalon egg sized flowers, blood red in July, co-planted with the perovskia for a fantastic combination
Echinops ritro.  Metallic blue balls on tall stems.  Beware prolifiic seeding though.
Crocosmia  Lucifer - has searing red exotic blooms that look like humming birds in action.  companion plant with echnops.  A 1980s combo.
Erigeron karvinskianus - daisy to grow out of steps, gaps in paving - will seed everywhere.  A low crawly filler.
Iris germanica - these are bearded irises - practically every colour under the sun is available.  go to www.woottensplants for a large  selection.
Astelia chatamica architectral silver leaves,  this is what a phormium would look like if only it knew how. Looks great in a pot or as an eye catcher in a flower bed.
Cynara cardunculus - artichoke - where space permits this will give a architectural effect and you can eat it.
Digitalis purpurea- common old foxgloves but so easy to grow and in shade especially - a lovely plant.  Pink but white is available too.
Verbascum spp - foxglove effect, but more refined.  There are lots of different new cultivars so plenty of colours to choose from.