This week I visited Piet Oudolf's garden in Hummelo in the outreach zone of north eastern Netherlands and buried deep in agricultural land. The Friesian cows were peering through the hedge and the rumble of active tractors was resonant in the otherwise still air. The economics of the trip were such that it was pretty much even stevens for four of us to fly to Eindhoven, hire a car and drive there as against the price of a return train ticket to London from Suffolk.
Anticipation kicked in at Eindhoven airport - waving clouds of calamagrostis and molinias by the arrival building promised that Piet had passed through. And outside Hertz rentals, heliotrope, liriope and pachysandra. Municipal gardeners eat a leaf here. By mistake we took the slow road, but arrived at the discretely signposted Oudolf residence in under two hours. The garden is open in June and then from August through to mid October. Right now is the perfect timing for such a trip - the perennials are busting skywards - asters and actaeas in full flower and grasses in miasmic sway. Some are over and have assumed magnificent shades of rust and yellow for the winter months. The pearl grey sky was a perfect foil and we pretty much had the place to ourselves for several hours of wandering and soaking up the atmosphere. Senses tingled from the array of plants, the placing of them and layout of the garden which gave a perfect play between abundance of large plants, in the main perennials and grasses, and areas of pure uncluttered space. Nothing was too primped and tidy. Municipal gardeners please note. On arrival we found Stephen and Kim Rogers from Dove Cottage Nursery, Yorkshire digging up a pennisetum with a trowel. All this under Piet's benign eye. We shook with excitement. Anya Oudolf took our entrance fee and commanded us to be slow, to sit, observe and drink in the place. We did and sat on a bench at the far end, ate sandwiches and looked and looked.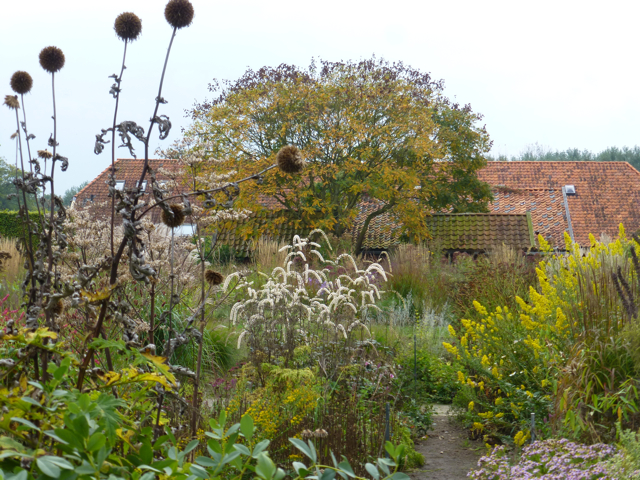 I have noticed a tendency to try and snap a garden into my camera on a visit of this type. Rather like buying the postcards before looking round an art gallery. At Hummelo, I obeyed Anya and drank the garden. Smelt it, touched it, heard it and then turned up the knobs to look at individual plants and maintenance considerations. On maintenance, the blurry edges were a welcome sight. Patches of hard materials softened with self seeders. And as for the large perennial beds, a little a-scruff with lesser creeping grasses - how do they look after them? I bumped into Anya on her way to shut the gate and asked her.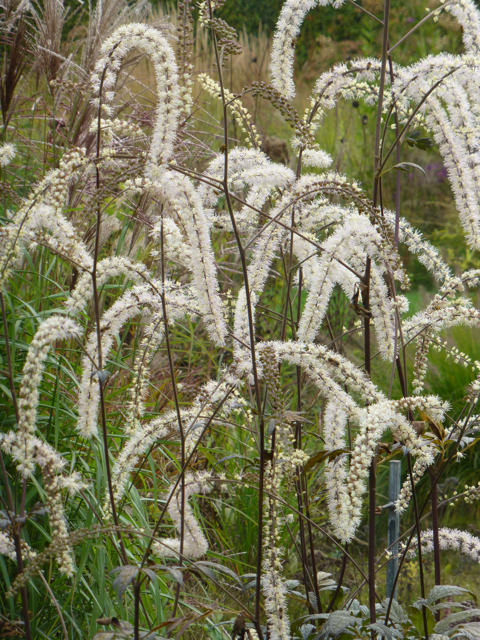 Everything gets cut down in February - the entire 'canvas', as it were. This takes one very strong farmer 8 days and several container loads of extraneous matter - and let me assure you that the garden is not that big. A good hoeing and they are ready for growth to come round again. Choice of plants ? They are not rich feeders and prefer poor soil. A collaboration of authorship between him and Noel Kingsbury "Planting: A New Perspective" makes a thorough study of the growing habits of different plants and from that their suitability for co-habiting.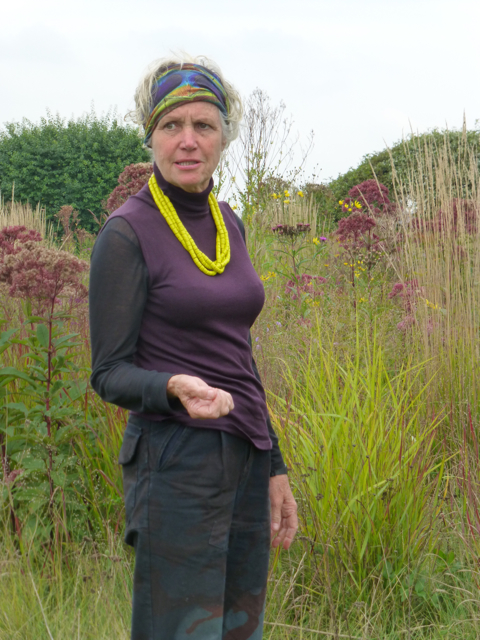 Oudolf has to be one of the greatest living garden artists - and just check my photo - elegant Anya is wearing the same colours at the beds behind her. Brooding purples with a splash of vibrant yellow. Perfectly suited to co-habiting with her plants. We had supper in on our way home at Luytervelde, a chic restaurant hidden in an Eindhoven suburb. We apologised for our inelegant footwear but explained we had just been visiting a garden. The waitress was perplexed: "A garden?" " Yes, Piet Oudolf's" "Who - never heard of him." PS: the actaea pictured above is Queen of Sheba. Very strong scented and bee magnet.