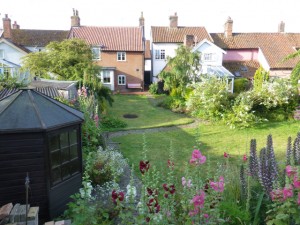 Well, one big part of my garden coaching is designing gardens. However a quantum shift has come over me and in the collaborative process, I am keen to get my customers to do the job themselves. With guidance. So here are two pictures of a new garden we are working on with views in and out. Small town garden with a castle peering in above a bank that has been terraced. My customer has a pretty good idea of what she wants - no pink for starters and the boring patch of grass up near the house is to disappear under jungly perennials with lots of verticals. Up on one terraced level espaliered fruit trees. We have and looked at what to save, discussed the outline ideas and begun to think of the planting.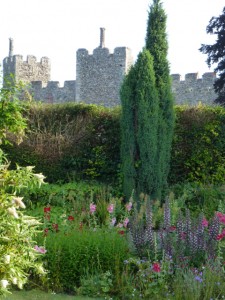 Stage one was to get in the car and drive to the nearest substantial planting by Piet Oudolf, Pensthorpe in Norfolk. I also took another customer who wants 2 large borders replanted. Packed up camera, pen and notebook and sandwiches and as we wandered I let their reactions bounce back to me. It was interesting. My castle customer is a textile designer and she almost danced with the foxgloves and fennel (Dammit she really wants fennel despite my warnings of garden take-over). Customer two was far less sold on the formless modernity of modern swathe planting - not seeing the individual textures in the mind's eye. It was a seriously handy outing - number one customer came home with a list of what her main plants are to be - Digitalis ferruginea, fennel, of course, veronicastrums, sanguisorbas - gauzy curtain-making plants with height. I will grow some of these from seed while her homework is to spray off the lawn, rescue any plants that we will recycle (not many). The orders will go to the wholesaler in a week or two when the research is complete.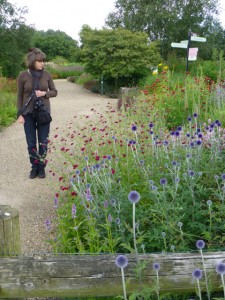 The non-castle lady - well I had a site visit today and what she did not like has given me good guidance of where we will go with the plants. A mingling of roses with cultivars that borrow from their wild relations - Jacobs Ladder, scabious will be in the mix. I've given them both task lists and can now sit back and relax. Just one task for the short term and that is keeping a Brown Owl check on them to make sure they are getting on with their homework.