Sneaking Round the City
Look at these Gardens
Posted by Catharine on April 26th 2021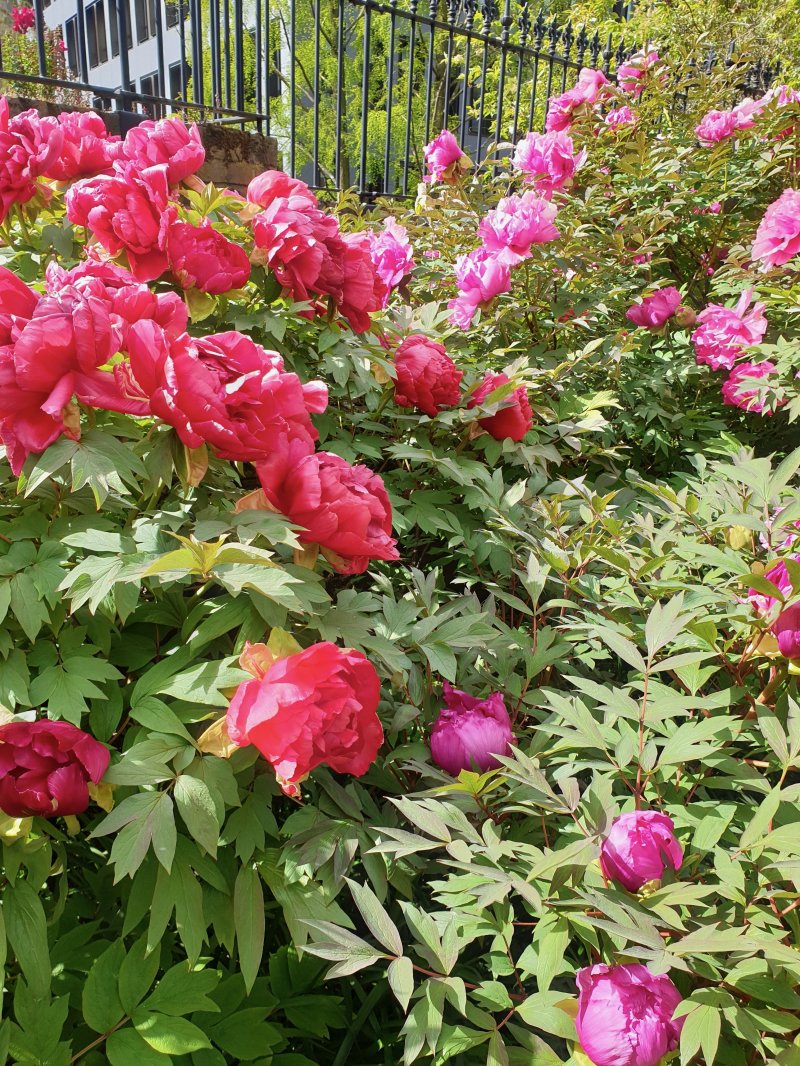 I hooked up with BrookeTurner Tours for an explore of the gardens and green spaces of the City of London. The historical layers were deftly unzipped: back to Roman bath house and fast forwarded to medieval street bustle: Our guide, Alison Brooke Turner told us to look about and see the names: Old Fish Market, Skinners Yard, Bread Street. We were reminded of the Great fire of London in 1666, the rebuilding of the quarter with 51 churches by Wren and the construction of domed St Pauls and the firefighting in the Blitz to save this famous monument.
We looked at secret spaces, with exuberant planting grafted onto old buildings in shaded places - in fact in corridors where the sun never reaches. We saw magnificent trees reaching skywards against mirror clad buildings and we got the Knowledge.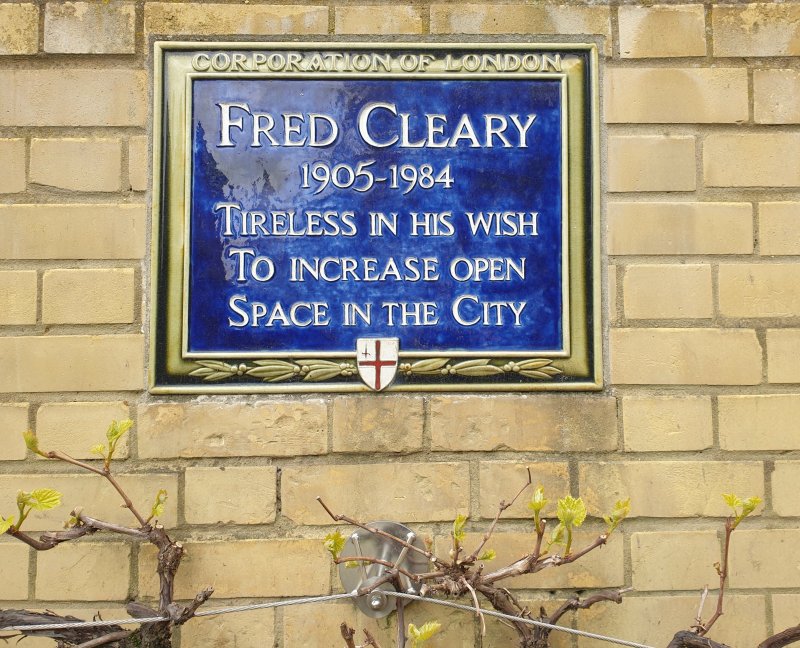 I am going to cut straight to Fred, a man she introduced to us early on and here are his dates: 1905 - 1984. His Cleary Foundation funds ecology and art grants for students, looks after St Margarets bay in Kent. He had an early interest in recycling. A surveyor and enlightened property developer, he saved priceless old buildings and found a new use for them. His top thing though, he loved nature and created green and restful spaces in war-torn and neglected bits of the City. Over 150 small garden spaces were transformed, thanks to him.
The Post war City was a traumatised place: rubble and carcasses of old churches. Fred Cleary would have them all as gardens: here is Christchurch and Greyfriars church which has had a garden made in 2004 and the road diverted to restore peace and settle it back into the landscape.
Our walking tour was done on a Sunday so along with joggers, we had it to ourselves in the searing wind and as Alison took us round the stone haunches of St Pauls - she reminded us there had been a coach park there. All traces gone and instead tulips and wallflowers in jaw dropping array. Tulips elsewhere bust a flowering gut beside tube stations, on corners. The floral display then gave way to avenues of trees. We are here at the moment fabulous filigree bud break.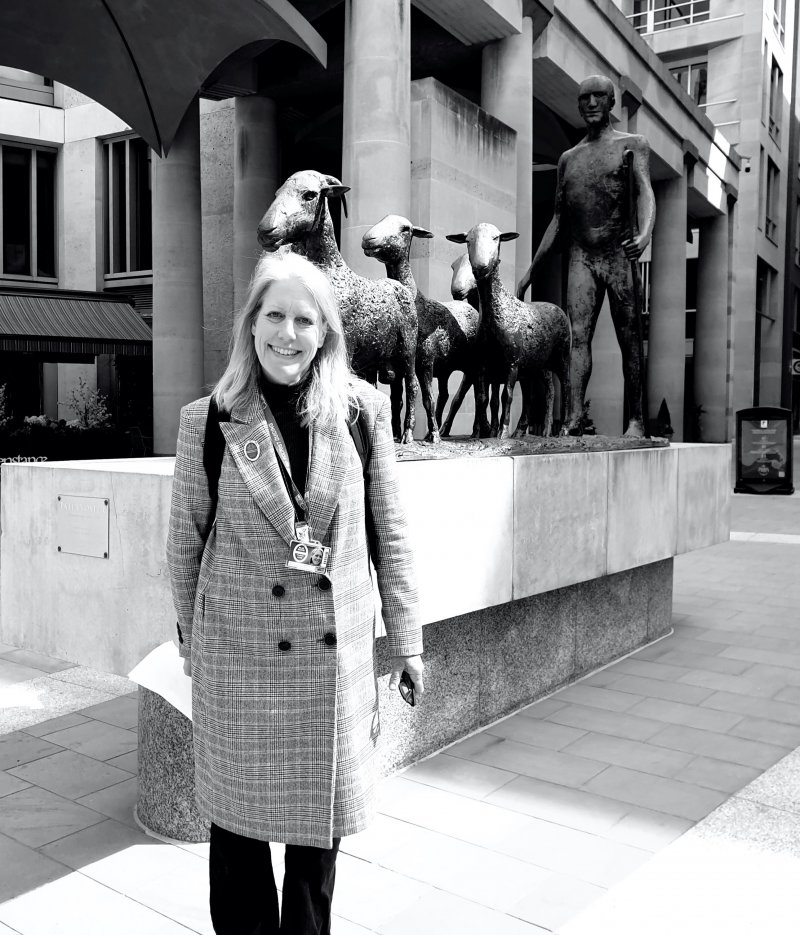 At the back of St Pauls we regrouped in Paternoster Square, reclaimed as an open space twenty years ago. It has really good stone paving and Elizabeth Frink's eponymous statue. Alison shepherded us towards Postmans Park: three churches have their graveyards here and the gravestones are stacked up round the sides. I think Victorian property developers rubbed their hands with glee until told that the dead must not be disturbed. This shady park is one of the larger ones in the City and has very fine monument to Heroic Self Sacrifice. Stop and dwell on the saddest stories of valiant life saving, inscribed on tiles under an arts and craft roof.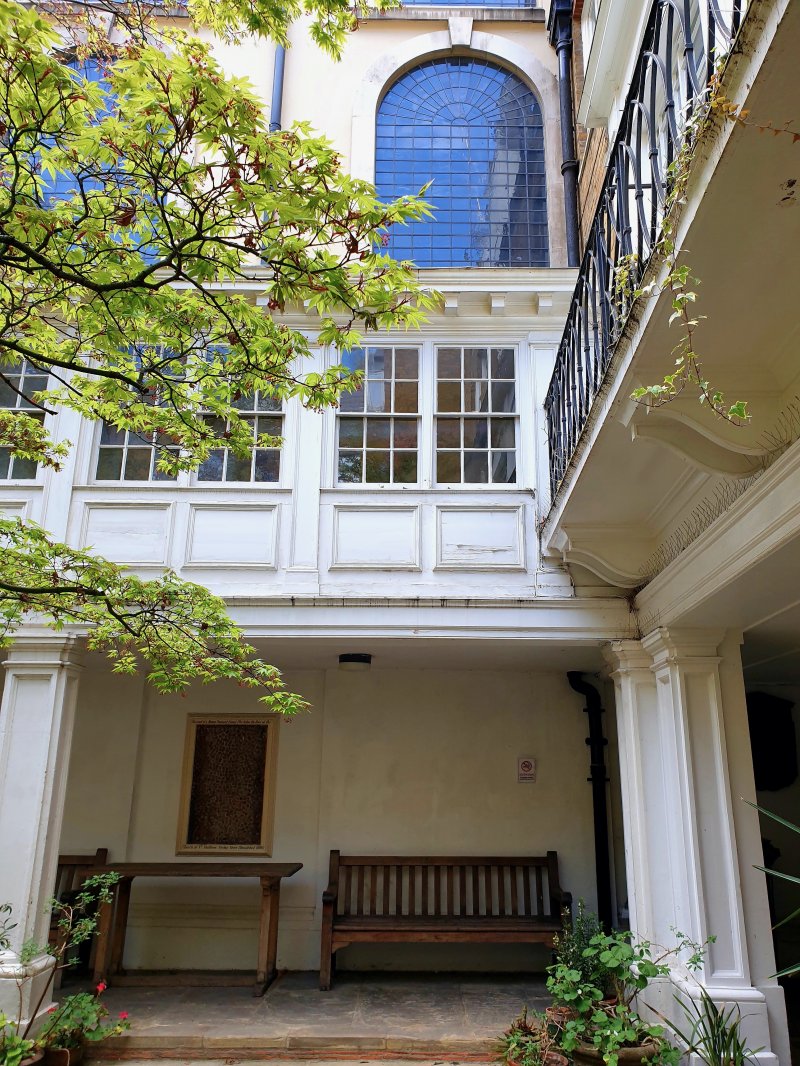 We vanished off the street into the tiny courtyard of St Vedast alias Foster, something to do with St Gaston but never mind that. Equally don't mind the Epstein bust of a former rector, the Assyrian tablet cemented into the wall. Take note instead of the lack of car sounds, the sweet bird song, and all round the courtyard elegant windows and some that run along the back of the church 10 foot up. A secret passage perhaps.
A little bit of the knowledge from Alison included an introduction to the City livery companies: rich and ceremonial, educators and doers of good deeds. There are over a 100 of them, with a strict hierarchy of order rooted to a guild system, some with charters from the 13th century. There are livery halls scattered across the square mile. We were shown the Worshipful Company of Goldsmiths' and the Tallow Chandlers opposite.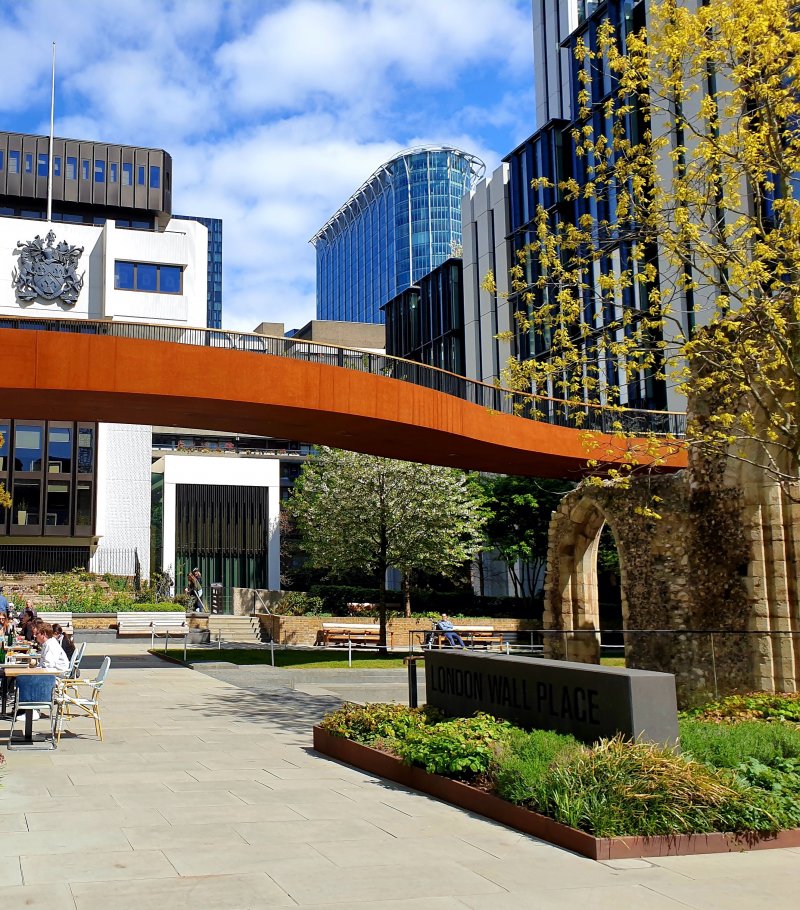 From there it was a short walk to London Wall Place and the Salters'. The sunken garden there was designed by David Hicks, the Salters' gates on magnificent display on the way in. London Wall, once dreary with rushing cars and high level pedways to get human beings out of the way, transformed into green space to laze around in: its the newest bit of re-landscaping in the City.
Completed in 2019 by Spacehub Landscape Architects it has won many awards and has a remarkable 650 square metres of planting under the soffit of the building. A fitting place to end. Visit https://brooketurnertours.com to arrange to join Alison for one of these immersive walks.