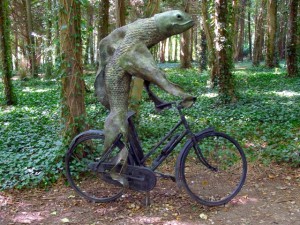 Flicking through a magazine, I came across pictures of a fish on a bicycle and a rubber palm tree and knew that I had to drive down towards the Sussex Downs to take a better look. These and other provoking works of contemporary British sculpture, are set in the wooded grounds of the Cass Foundation near Goodwood. The Foundation was set up some 15 years ago by Wilfred and Jeannette Cass to support new artists. Everything is for sale, to raise funds for future commissions, and though the price tags are substantial and you might not reach immediately for your wallet, flag the place for a visit if you are in the area.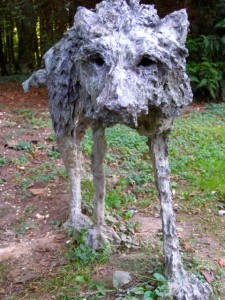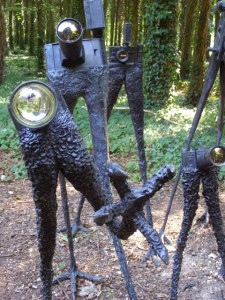 Why? What you see is an open air gallery with a collection of sculptures that assault the senses on all fronts – touch, light, movement, gravity and sound. Some works are hauntingly real – a wolf in rough bronze that locks gaze with hungry eyes, others will make you laugh while creating a resonance of unease: for instance the hawk toed group of parazzi, slung with recycled phallic Leicas. The grounds are heavily treed, with beckoning sinuous paths through a dense ground cover of ivy bursting into open sunny glades that give a glimpse of blue Downland views, fields and farmhouses in the middle distance. The sculptures have been positioned very carefully and meld with their setting. This is a little more contrived than a first look might suggest. I went in the autumn and the Foundation was larging works by Tony Cragge. A digger had recently been at work, earth sculpting, drawing large curvaceous mounds that will soon green up and look as they have been there forever. Rising from them, a yellow bronze "Declination" – resembling a marmite pot gone mad – and "Here Today Gone Tomorrow" in soft stone and resembling a pair of coastal stacks but also a married couple in a hurry.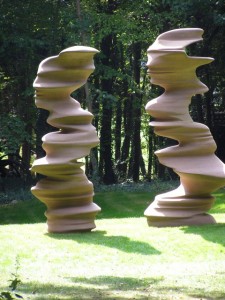 How does any of this relate to the domestic scale of garden making? Well there are lessons in spadefuls. First of all: site specific. This means that you need to pick up on the location of your garden and the mood it conjures – views, underlying geology, the existing vegetation are a few from a long list that will influence you. Here the curators have been clever, each statue is given its own space that is just right: a grassy knoll for a reclining giant, the paparazzi hovering in sinister keenness by the visitor centre, a giant sycamore seed in a hollowed out bowl. There is a bug-bear about the whole garden design industry: trained designers from fine art backgrounds sit on one side of the fence and qualified horticulturalists on the other – they just are not talking the same language. Here at the Cass Foundation that is not the case, gentle intervention in the landscape has provided a series of stages for covetable works of art.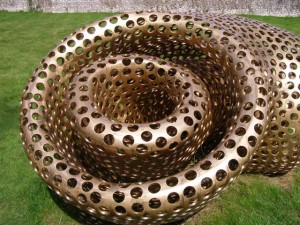 Then there are the 2 really important elements in making a good garden: a sense of humour and making a journey – how ever big or small your garden is you need to force your visitors to make a journey so that a path sends them off in a questing hurry, with glimpse of things that they will encounter. If you can set them exploring and then even better, tease them with a joke or two. Bingo, success. The days of le Notre and perfectly laid out avenues and matching box edged flower beds are over. Formality and pomposity have been replaced with a little bit of tongue in cheek. Happy coincidence then that the Foundation is currently hosting a work by Tony Cragge - a large copper coil with holes punched through it called 'Tongue in Cheek' – that is unless, someone has bought it before you get there.