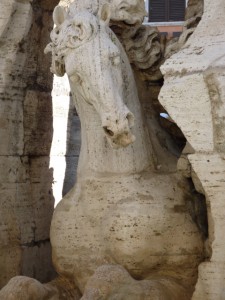 Can there be anywhere else like it for the squirt, drip and gush of water?    Tritons clapped on the back of houses and travertine horses riding smooth-shod across the continents various?  In Rome you are never far from a fountain.   There are decidedly fascist lions up the Piazzo del Popolo end that spew water and look on stoney as big screens and staged concerts fill the space.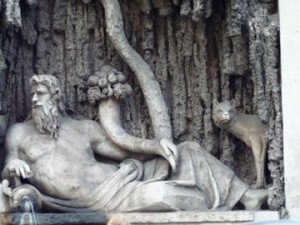 Down round the back of a market square, hap upon an ecclesiastial hat, full tassled.   A cardinal for posterity.  Two turns of a corner beyond this one, some crazy nymphs are sitting on dolphins and toying with tortoises.
My favourite fountain is outside the aptly named San Carlo alle Quattro  Fontane.    The nuns from the convent next door fill their water bottles here.  I have no idea who this man is, hanging on to his cornucopia and lying on a bolster vessel that spouts.  More Orphic than Christian perhaps.  The nuns do not care and the god lounges and watches the traffic of the Via del Quirinale  go by.