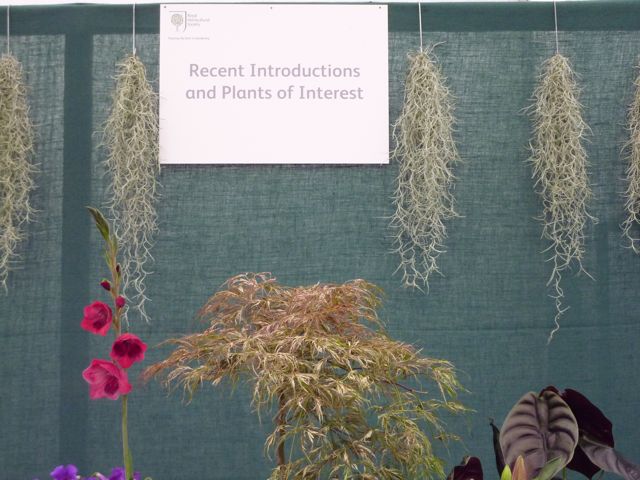 I offer you 3 from the Hampton Court Flower Show, day one,  earlier this week.  I'd made the blunder of  leaving the long narrow Floral Marquee to look at on the way out.  Mind gone ahead into the traffic jam of the rush-hour.  Mental  auto-pilot  sated with an overdose of lilies.  And then I saw this.  Shrunken heads hanging over the top of a very sober selection of the newest to make it into the horticultural wide world.   No-one around to tell me what they were, dangling so provocatively above the line up of new heucheras and the like. So what are they?  I think they might be called Tillandsia and live on air.  Pure deduction on flimsy research.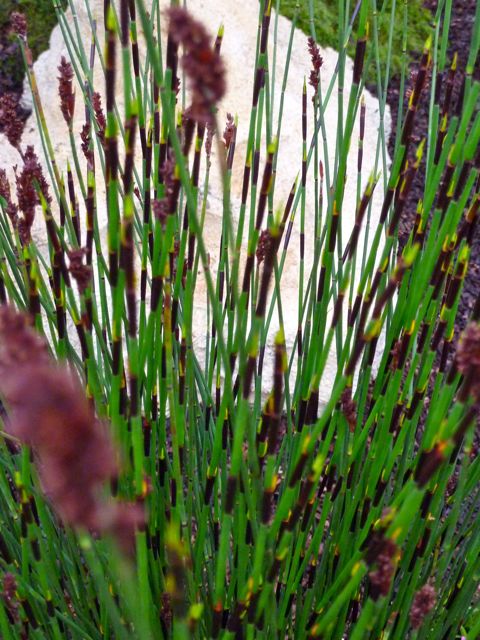 The genus
Restionaceae
(tall growing) had already been arresting in the National Collection tent and on the way out
Elegia tectorum
caught my eye with its look of a sixties dance dress pattern.  The
Restionaceae
are sophisticated, for those who have munched their way through the grass pallette and are questing on for something new. To make a threesome of unusual sitings, this allium is new, and, for some inexplicable reason has the look of a rubber duck.