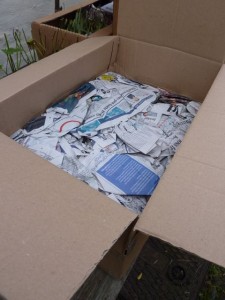 Plants by post seems like a fairly crazy idea.  Especially when 18 large grasses were ordered up  in 2 litre pots.  On delivery  the box got heaved, upended into the shed outside and neglected for 10 days.   No-one had remembered to mention the package in the shed and I stumbled across the box, returning tools in the gloaming one evening. Not a promising beginning, but hurray for careful nurseries and the dormant season.  When the lid was opened up, this is what the contents looked like.    The grasses were unwrapped, each one in a hefty twist of newspaper.  Not more than a spoonful of potting compost got spilled and they looked selected straight off the shelf.  These are
Miscanthus nepalensis
a graceful gold tassled grass.  Not one of those elephant sized large miscanthuses.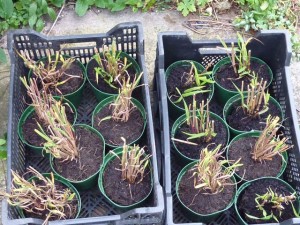 The bare-rooted roses arrived round about the same time.  These look fragile but the travel by post doesn't upset them at all.  They can sit around in the bag they arrive in for a week or two, better instead to heel them into the ground.  The one thing to avoid is exposure to the drying winds of winter or worse still, leaving them dumped in a bucket of water.  Make sure that a good covering of soil covers the roots well and right up to the graft union. If you can't source what you want locally, this is a good way to buy plants.   Particularly if you know the nursery.  The grasses above came from the best grass nursery, Knoll Gardens in Dorset.  The roses in turn from David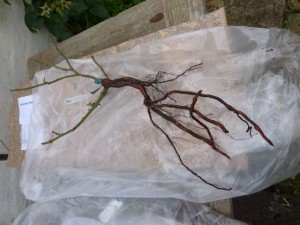 Austin.   Not so tomorrow's order and it is a bit worrying to be  buying blind:  a pallet load of
Cotoneaster franchetii
is coming in by courier from a wholesale hedge company.  Will they be big?  Will they be bushy?   If not, how do I send them back?