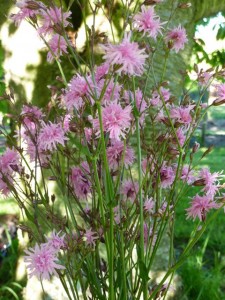 This is
Lychnis flos-cuculi 'Jenny',
related to hedgerow Ragged Robin.  Yes, I know it was all-over Chelsea Flower Show but there it was, sitting on a stand in a grassy Floral Marquee @Suffolkshow and I had to have it.  
Beware the plant-breeders rights thing.  Legalities to one side, it looks like a shell pink double old columbine.  I've planted it behind
Stipa teniussima
and wait to see whether it sulks in my dry soil.  The Marquee vending man said that would be brilliant, internet research says other.