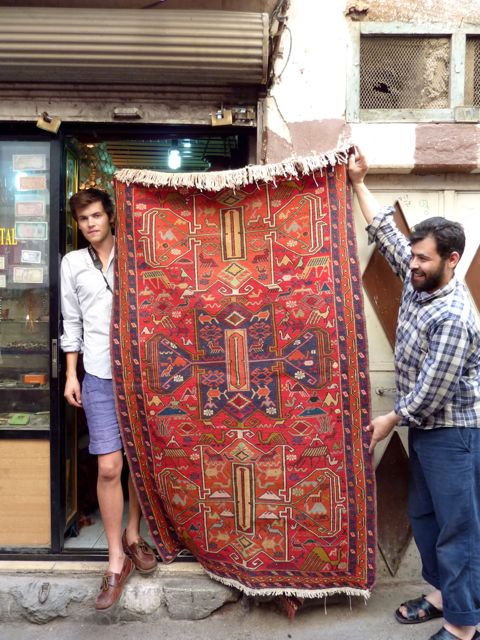 We did end up buying a carpet on the recent Syrian trip.  Or it might be a rug or a kelim.  I know that quantity of knots per square inch are the acid test.  Any way here it is, a  lovely object from Tabriz in Iran. The man on the right is the carpet seller.   He is to be found near Bab Tooma gate in Old Damascus, somewhat off the beaten track.
We brought the carpet home and stretched it out on the floor, played a light across it and admired the colours, overall pattern and shape.  Next time I went upstairs I had a long hard look at it.  What had completely passsed us by was the detail within the pattern.  The carpet weaver had used the rich fabric and luminous colours to unleash a menagerie of animals.
We had not noticed any beasts at all.  But when you looked hard The dromedaries and camels were pretty obvious as were the plethora of flying birds.  Each stare unleashes more animals:  antelopes, fish, frogs, rabbits and today a  family of rats.  See what I mean below.  Fish and snakes, amongst other livestock.