Looking down on this dahlia?
Posted by Catharine on October 3rd 2013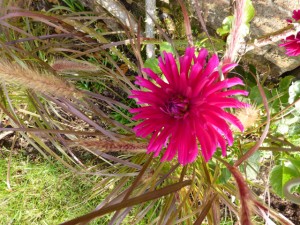 It is Dahlia cactus Orfeo pictured here with Pennisetum setaceum Rubrum. This past May I got dahlia tubers from de Jagar Bulbs and grew them on in pots to pop into vacant ground to bouff up a garden for a September wedding. With the squirrely grass, rescue came to a difficult yellow wall in the site-line of the nuptial handshake queue. Black and magenta provided the perfect foil. We are talking plant installation for a wedding as I do not suppose for a moment that either of these subjects could slug it out in the heat at the base of the wall. Agapanthus will be the great blue hope for a proper planting. The wall follows below in all its yellowness.