Monsieur Alexandre Thomas, paysagiste, has taken an idiosyncratic tack with his family garden. The sobriquet 'nonconformist' sticks and he revels in it. He has two of them, Les Jardins Agapanthe, mere spitting distance apart across a country lane in Grigneuseville, Normandy. Each has an etiolated gingerbread house at the core with planting wrapped and woven round the buildings.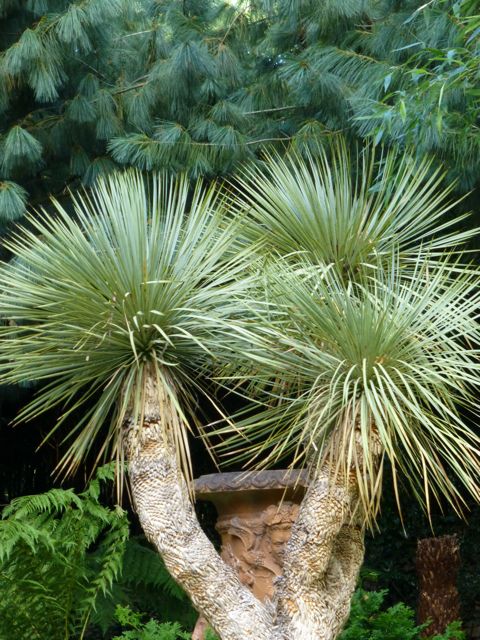 One and a half acres has twisting paths leading to secret terraces, rooms and corners. The entrance, through a timber framed small drawing room with silk wallpaper, disgorges the visitor onto a sand path with hurrying beckoning curves, past plants set as sculpture and round artfully placed urns or pots. Madame on the door, takes the money, gives out a map and begs you to follow the numbers. But your feet have to be restrained from haring off on a game of hide and seek. Nature as theatre set.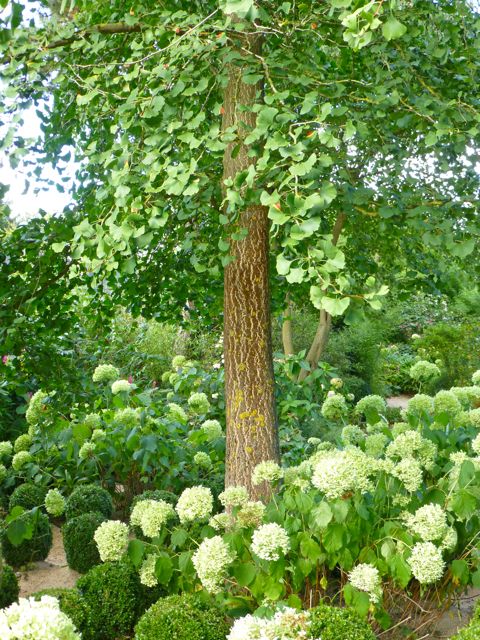 L The essence of the gardens is texture. Thomas has chosen his trees and shrubs as swatches of fabric and then filled various spaces, let us call them rooms, with an eye on the tension of contrast. A first tableau is the splitting yellowish trunk of the ginkgo tree, its singular roundy pleated leaves with an understory of giant mop headed hydrangeas. The caulitops leading on to a pot bellied bowl, fat and big as a hippo calf. Box balls rolling everywhere as ground cover. He has more than 500 to keep clipped. Earlier in the year alliums and agapanthus spring up between the topiary. The best stage set is at the heart of the larger garden. Hidden by a complicated journey, obeying the numbers, of course. Up a slice of giants causeway where water trickles through weathered stone.
Darmera peltata
and
Osmunda regalis
drink deep . Tipped down Lutyenesque staircase to arrive at rusting gates with a repeat planting of lavender beyond. A yew hedge make the walls of the room. The rare use of straight lines adds to the impact. Peeping over the walls, nosey sentinels of cliipped yew and slightly Bacchanalian hydrangeas. A master study of pattern and restraint.
The lavenders and indeed everything else is growing out of pale sand. Imported annually as a deep mulch from the local riverbed. The sand is for aesthetics but does the plants a favour in covering the weed bank and keeping moisture in. Lawn grass is banished and the pallid backdrop offsets the greens in every shade from sombre to glaucous. Harmonious with rusty shades used for chairs and ironmongery throughout. The owner revels in the effect his garden plays on the emotions. The plants give sway to the imagination of Thomas. They are in the set as performers and some of them look a little uncomfortable with the part they play. His avowed method is the ready installation of a garden with big plants. An uneasy tension emerges between design and horticulture.