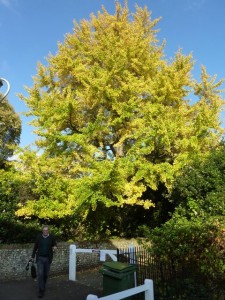 This morning the shipping news, poetic as ever, sailed us into the wicked stripping winds of winter.  I wasn't encouraged to leap out of bed; lay thinking of trees taking a pounding.   Beside me a copy of "Woodlands" by Oliver Rackham: an unputdownable piece of non fiction.  As the wind denudes, my blog this month is going to stay with the trees. Today,
Ginkgo biloba,
which my camera caught a week or two back by the water meadows at St Cross, Winchester.  This tree starts out as a military upright thing.  Probably an adaptation to making it in a crowded environment.  It is the first mature specimen that I have  ever seen and the branches are spreading out, curvaceous and upwards.  The tree is dancing. The gingkgo is a prehistoric tree and is called a living fossil.  I'm no paleontologist and can only guess this means that it can be found set in stone and also has cheerful flourishing descendents.  If anyone knows better, let me know. Widespread in ancient times, the tree retreated to areas of China, possibly kept in cultivation by monks.   The method of reproduction is similar to the mosses and ferns and goes back to a time way before flowering plants had evolved. As a botanical specimen the tree has a unique leaf, fan shaped and quite often split, hence the biloba bit of the name..  The new branch growth has very short internodes, roughly defined as the spacing between leaves.  This gives a fabulous ruffled effect.
Ginkgo biloba
is a horticultural curiousity, completely on its own in its class, by way of taxonomy. A  good choice for a street tree, withstanding pollution.  A survivor of Hiroshima. Garden specimen apart, it has a long list of medicinal uses.  Topping this, in the combat of dementia.