[caption id="attachment_104" align="alignleft" width="225" caption="Tudor courtyard of Okenhill Hall, Suffolk"]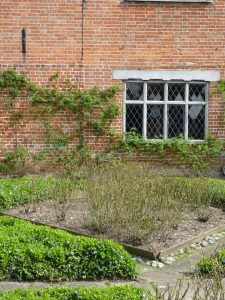 [/caption] about Okenhill Hall, near the castled town of Framlingham.  Well, the oracle - Nikolaus Pevsner - in "The Buildings of England" - Suffolk volume -  is dustily dry:   " with a stepped gable and dated 1552.  Two polygonal angle buttresses with polygonal finials.  (
are you still with me?)
Two windows with pediments, resting however in a characteristically undecided way on hood-mould stops."  
...... the language of a seagull crunching on wind-seared bones.
Forget him
.  The Hall is tall and a fabulous orgy of old brick, twisted chimneys and windows with stone lintels.  The garden from croquet lawn out to moat and views  beyond is a masterpiece of restraint and good taste.  I  liked the gardeners shed best.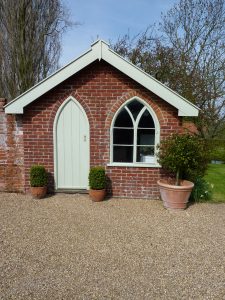 The lawn was crimped to perfection and dotted here and there a considerable collection of sculptures.    Seen from the haha,  a figure of a man running full tilt across the meadow and this dog, a  fine silhouette in a gap in the hedge.
Of dogs, this brings me to Buna, our nursing border terrier.  While I was eating cake and ham sandwiches, spread lightly with dijon mustard,  back home she abandoned her puppies and ran away to the pub.  A £75 dog fine later, she is home once more and in the proverbial dog house.