This is part two of three posts on how to fit a desirable and covetable tree into your small garden.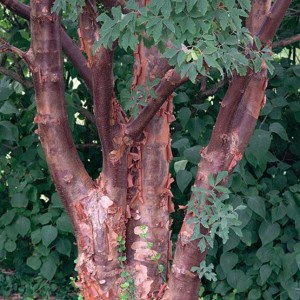 My imaginary plot has now shrunk to 5 x 5 metres.  Not big,  but no reason why you should not have a real tree and get that lovely sense of height and privacy without giving over the whole area to a greedy monster of a space-grabbing thug.  Strictures are:  a limit to height and width too.  I want you to be able to underplant your tree with bulbs and shade loving plants.   Good overall shape is vital and the tree should tap dance in some way too with one or more of these qualities:   coloured bark, blossom, fruits, autumn colour. That last post gave you 9 Paris lovelies suitable for a plot 10 x 10 metres.  Well here are another 9 that have been chosen for good looks  in more straitened circumstances.
Acer griseum, the paperbark  maple has cinnamon splitting peeling bark which contrasts with the primary green of its leaves.  This will make a really lovely specimen tree but tuck it into the edge as it will slowly grow to make a reasonable size of tree of, say,  10 metres.
Amelanchier lamarckii,  known as snowy mespilus,  will quietly get on with it for most of the year rousing you from a torpor in spring when a haze of cream single flowers shimmer on cooked lobster-coloured leaves.  It fires up in autumn as does the Acer griseum.
3.
Olea europaea
- the olive has architectural presence and sheds little shade.  Despite a rumour otherwise, they are easy to look after in a sheltered site.  (If temps are forecast to dip below -10c wrap them in fleece).  For a silvery look the olive knocks the silver pear off the garden fence.  This latter one is far too greedy of space with its jellymould spread. 4. 
Corylus avellana Zellernus i
s a horrible name for the red filbert or hazel.  Plant this to conjure the romance of the nut grove.   The hazel, being an understory tree from our woodlands, repays a hard cut back every 7 to  10 years.  This technique is called stooling and is the ultimate in space management. 5. And then we come  to
Cornus controversa
, called the wedding cake tree because the branches spread out in distinct tiers.  The clusters of flowers are held proud and look like exuberant cowparsley, followed by black fruits.   Vivid autumn foliage too.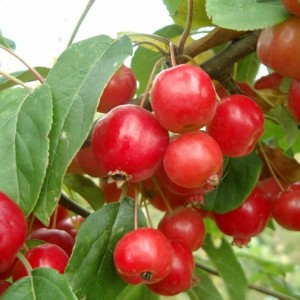 6. Acer palmatum
is a japanese maple.  It makes a graceful tree with  fabulous shape of trunk and branches, etched leaves that colour up in shades of red, yellow and orange.   Beware of planting where the early morning sun will scorch frosted leaves in late spring. 7.
Arbutus unedo
is known as the strawberry tree.  It  does err slightly by spreading sideways in matronly manner but it is on my list because it is evergreen with an elegant sheen to its leaves,  has lovely fruits and delicate waxy flowers.  Despite looking utterly exotic this tree is native to Ireland. 8. 
Malus Red Sentinel.
A crabapple has to be on the list as it is pretty much the perfect tree for the small garden.  The  blossom is fantastic and Red Sentinel has cascades of red fruits. You will get a good winter display until the birds polish them off. 9. Don't overlook large shrubs that can be pruned to grow like a tree.  Perhaps the best fake tree is
Cotoneaster frigidus Cornubia.
A mature specimen is a fabulous sight when early winter sets siege:  soaring arching branches, evergreen and vibrant red berries. Remember the rules :    check through the list aboveon the internet to find images.  You won't get a full picture so part two is to visit an arboretum or reputable nursery.  Then choose one and ONLY one. To See How to Choose a Tree for the Smaller Garden - PART ONE - visit my post of  12th January, 2013