COUNTRY GARDENER [caption id="attachment_14" align="alignleft" width="180" caption="Beautifully pleached tree"]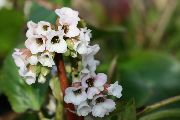 [/caption] Let March invoke a paean to pleaching.  This old word is defined as 'boughs interlaced, tangled."  Harbouring arbour desires? Longing for a shaded alley or the mere whimsy of a hedge on stilts?    Pleaching  creates living green structures and  gives vertical interest without being greedy of space.  It is a brilliant way to emphasis a view and even better, can take the eye off an eyesore. Install the framework first.  The size and distance of this will depend on the end effect in mind but as a rough guideline, a few tips follow:  - stout wooden stakes driven into the ground at approx 2.5 metres apart linked by a strong gauge of wire kept firmly rigid by the use of straining bolts. On the matters of training and choice of tree:  (I cannot pretend that there is no work involved but don't be put off) choose hornbeam, apple or lime from a good nursery (
www.barchamtrees.co.uk
- all should be young whippy plants of a similar age and appearance. Winter branches will be more supple - tie in and train at this time of the year and plait (or pleach) good lateral branches in with the neighbouring tree.  Don't be shy to lop branches that defy tieing or stick outwards. Once  fully established, prune in high summer so that regrowth is less vigorous.
TOWN GARDENER: Clothe walls quickly with climbing plants.  Try some of these - those marked * can be ordered as seed right now from
www.chilternseeds.co.uk
for an impact this summer. Listed in order of preference, (with the addition of 2 shade lovers at the end to relieve the frustration of sunless garden owners):
a fuchsia pink passionflower - Passiflora loefgrenii. *  - if you have outgrown your love affair with  the ordinary  form, grow this eye-searingly beautiful one.
Cobaea scandens* and  Cobaea scandens var. alba.* Known as the cup and saucer plant but do not let horticultural snobbery eat away at you - grow these from seed - they are showstopping and will ramp up your walls.  Treats as annuals.
Ipomoea purpurea *- a bluest of blue morning glory which might, if you have a a good imagination, transport you to Turkey.  You can ratch up the cool factor and grow Ipomoea nil Chocolate* as well - yes, it is brown.
Lathyrus odoratus Cupani*- the original sweet pea bred by a sicilian monk.  The scent is wonderful and the brash colouring will go well with the other plants.
Clianthus puniceus for crazy lobster claw flowers  in May and June.
-
Clematis florida sieboldiana
- clematis nursery lists groan with new introductions but this, a full white flower with a purple eye, is true beauty. And finally, for shade:
Hydrangea anomala sub. petiolaris
- a prince of climbers - takes time to establish and
Clematis jackmanii.
A true blue in high summer. TOP TIP Keep fit by gardening.  Make sure you limber up beforehand with a stretch and bend regime to keep those core muscles flexible. MUST HAVE Green Paradise soaps from Milan in 12 different scents from parma violet to blood orange.  Buy the lot and work your way through them over the gardening months ahead.  £3.25 each from
www.seedsofitaly.com