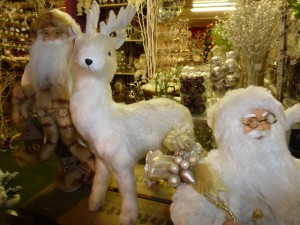 I saw a nearly life size baby Jesus with Joseph worshipping at the alter of christmas tree lights, the fluffiest sneeze inducing selection of santas, and reindeers in white mink coats. And the price tags looked pretty too. Steep that is. Who buys this stuff? By the way I am in one of the leading garden nurseries in the UK. If you look closely, there is a real live plant in amongst the twiggy reindeers and ceramic huskies.
I read Tom Hobyln's recent post in the Guardian blog the crisis in the gardening industry over recruitment. I'm not surprised about this crisis on the retail front. Who would want to go into a career that drops all semblance of taking itself seriously every time Christmas, Easter, Halloween comes along? I remember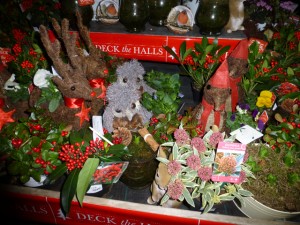 trying to buy a waterproof top on that last date and only finding black witches cloaks in the large emporium just outside our town.
The workers in this shop were making a snow-effect carpet out of swags of fleece. I suspect they were putting a brave face on it, for this retailer hires staff with horticultural backgrounds. But why do these outlets pile up these kitsch objects? Winter is an extremely busy time for gardening. Can the word not get through that leaf blowers, chain saws and wheelbarrows are a better investment. And what about seeds, bulbs, greenhouse-ware and bare rooted trees? There must be a way to get punters to part with their gardening pounds in winter.