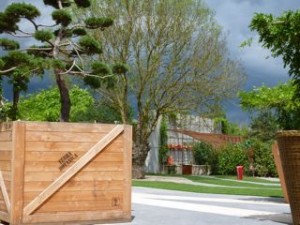 TERRA BOTANICA. Never heard of it? Just opened, it's France's brand spanking new theme park. All about plants and set handily, for us Brits, in the Maine et Loire region. Talked about and in the planning for 12 years, the first digger came onto the 11 hectare site only two and a half years ago. A construction gallop for this year's April opening. Such haste leaves a few glitches. The website with its virtual tour over-disneys the park. An actual visit is much more cerebral though this takes a while to sink in. For starters, it was all a little jejeune. The music embedded in a rock, the dying bamboos in concrete circles, the animated pirate and featherless parrot shrieking at us. There were ropes to pull on to bring to life images in cargo chests. The feeling of being a teenager having to sit with the toddlers took hold. Our ears were clunked and groaned at as we passed through warehouses, cargo-loaded: coffee beans in bags to rifle through, cinnamon sticks glued down. When our lovely guide alluded to the games and activities we would enjoy, a collective shudder escaped. [caption id="attachment_675" align="alignleft" width="225" caption="journey to the centre of the plant"]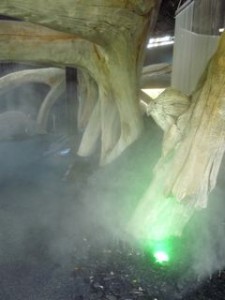 [/caption] We were introduced to Frederic Ravatin, the animator. Earth Scientist and expert in geodesy and geophysic, his subject is means sea levels with the equipotential of terrestial gravity. That apart, he sets up museums, including one for butterflies in Paris. He had eyes only for his parrot. Terra Botanica is about learning: teaching botany, horticulture and history. The big themes are taken on and turned into fun: plant collecting, genetic modification food , ecology and irrigation amongst them. It's lightly done to engage the audience of children. Also to captivate the childishness of adults. The sense of wonderment will get you. I certainly tapped into my inner child and went on an adventure that had its tacky moments, at its best was jaw-dropping and somewhere in the middle left me suspending my dignity and having a good laugh. We found ourselves watching film footage of a rolling square rigger through a screen of pouring water. The waves and real water slung themselves towards us, spars creaked, oceans surged. We were pitched abruptly into a hot glass house. Slight disorientation was cleared up by Johanne, our guide. We were in the Orinoco Jungle right in the tent of plant collector Aime Bonpland. Perched on tea chests, we had this 18th century cove talk to us from the other side of his camp desk, covered in an oriental carpet. Projected by a smoke-screen and mirror magic, he seemed real. My cynical carapace began to shatter.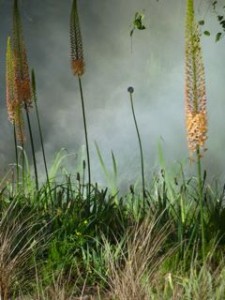 A slow horticultural fever begins to burn. Mature trees abound, tree ferns wave in the breeze and the foxtail lilies are up. There are carpet of roses, irises and perennials. I am beginning to speculate on the planting budget behind the project. But of course we are in Anjou district, France's premium nursery growing area and the big horticultural industries are lined up behind the venture as backers. No shortage of plant material here. Next activity, we are led on bridges over water that spouts, boils or sprays out as mist to a series of of islands ranging from the Moloccas and East Indies to Sri Lanka. The task, to collect ivory, cocoa. vanilla. My notes are a little inscrutable at this point but we seem to be in a giant's version of the board game Cargo. Oh that Johanne, she had us with those activities and games. Perhaps peddling off in a plastic half walnut shell along the high-wire pushed it a bit. Joining a raindrop on it' s journey from cloud burst down through the earth and up the xylem of a magnolia to flowering did not. It was pure bliss behind the 3D specs. What seems madcap is far from it. Besides the animator. are two more creative brains behind the masterplan and mise-en-scene. For superb plant knowledge an ethnobotanist Francoise Lenoble-Predine is involved. Ethnobotanist? they explore the economy and social uses of plants. In one of her projects she works directly with Madagascan subsistence farmers to grow on rare orchids that have been rescued from near extinction. They are grown in laboratories in Madagascar and exported for the perfume and cosmetic industries. The middle man is cut out. [caption id="attachment_677" align="alignleft" width="225" caption="gate of knapsack sprayers etc"]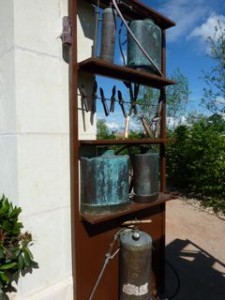 [/caption] Thierry Huau is the third. Landscape architect and town planner but also botanist and theatrical set-maker. He has worked on projects in Beijing, Vietnam and the master planner for the reconstruction of Beirut. The day of our visit he had just finished showing a committee for the redevelopment of Baghdad round. Part of the tendering process is a visit to Terra Botanica. He describes himself as 'A globe trotter with green fingers'. [caption id="attachment_674" align="alignleft" width="225" caption="slate and limestone and Johanne"]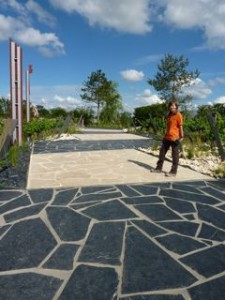 [/caption] A strong seam of seriousness courses under the jokes and games. Clear design stamps itself throughout and the planting, complete for this years April opening does not look so raw at all. The local stone - black slate and pale limestone are used in bold paving patterns. Also as unpolished stone for terracing the vines. It is a fine local reference and gets to the heart of the notion of terroir - the rock feeds the local vineyards. We badly need our future horticulturalists, botanists and ecologists. Terra Botanica will capture the imagination of children. A visit to this park will thrill and inspire. I can't wait to go back.