[caption id="attachment_365" align="alignleft" width="300" caption="garden by Decembrini and Zanzi at Chelsea"]
[/caption]
"Lights and Colours of the Alps" grabbed attention in the courtyard section at Chelsea.   Signor Zanzi stepped out from behind his backdrop of mirrors, which set off heaps of smouldering moss to perfection.  The palette was seriously botanic - lifted in inspiration from the Dolomites and plants placed as they would grow in their own habitat.  Piped fog whispered out of a hole to give respite to the wilting gentians.  At 30 degrees C,  too hot for plants as well.
Also look out for the Go-Modern Garden, round the corner from the main Avenue.  It has a wondeful unbusy quality with a repeat planting of Persicaria bistorta Superba under multi-stemmed birches.  The restraint just works.
Hidden away in the giant marquee there is a really charming garden made for the RDA - Riding for the Disabled, basically a small rioting meadow with a cor-ten steed grazing in it.  I'm assuming that it is made of that as my catalogue has walked leaving me with armfuls of literature for cloches and edge trimmers.
Of the big guns, Tom Stuart Smith for Laurent Perrier, got my vote for the vast massing of box balls, all varying in size and the simple planting plan - largely white and crowned with Astrantia major 'White Giant'. Make sure you go round the corner of the Norwegian garden "Kebony - Naturally Norway" for transcendental planting combination of Meconopsis betonicifolia, Stipa tenuissima and Geranium phaem.
[caption id="attachment_367" align="alignleft" width="300" caption="bllue poppy Meconopsis in Norwegian garden"]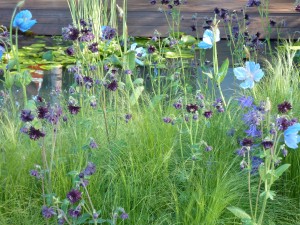 [/caption]
Trends?  Moss  is in - little moundy donuts planted vertically as walling - not at all convinced it works in real life but just love it anyway.  Heucheras are breaking out this year - they've made it to  specialist status with the breeders bringing on some wierd and dubious colours zinging new greens, but toffee squashed under foot too.
Best Marquee displays?  The irises on the Cayeux stand look fantastic - only a small representation of what they have growing in their fields back in the Loire valley.  Knoll Gardens are grass and perennial growers and sitting on the edge of their stand is a fabulous little pennisetum which I will post seperately for plantaholics.