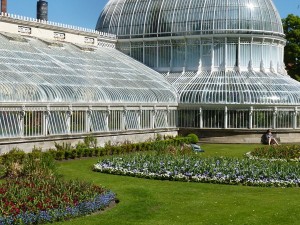 In a new city, the beeline I make is to the Botanic Gardens.  Once there the homing in is on the palm house. A building that smacks of such self confidence and an era when we were on the march upwards.  In the 21st century with all the advances in construction technique and glass science, they still make my jaw drop.   There are two here that I want to show you.
First, the Palm House, Belfast.  With the looks of a Taj Mahal in glass, it is the earliest example in the world of a curvilinear cast iron greenhouse. Designed by Charles Lanyon,  and  predating  the mighty glasshouses at Kew.  A time-line:  The Marquess of Donegal laid the foundation stone in 1839 and work was completed a year later.  This is 11 years before the Great Exhibition.  The Industrial Revolution is in full swing and a lot of experimenting is going on with glass and cast iron manufacture.  The largest sheet glass available is 3 foot long.
The building has two wings.  A cool wing and a tropical one which contains the dome.  By contrast Edinburgh's Palm House is largely constructed of pink sandstone.  The architect, Robert Matheson, being beady with his use of glass.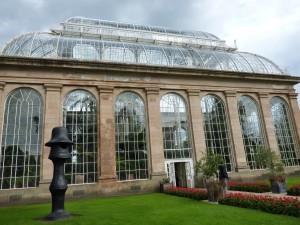 Edinburgh's Palm House is the tallest in the UK.  Reaching nearly 22 metres.  That is 72 foot in old fashioned speak.  Built in 1858,  a year before publication of The Origin of Species and in the tempo of a desire to catalogue, examine and be curious about everything from all over the globe.  Understandable that a  Parliamentary grant of £6,000 paid for this Temperate Palm House.   Am I alone in having a weakness for them?