Dahlias yo-yo in and out of fashion. Right now the spool is taut and this genus of perennials are spinning high. Funny to reflect then that the first plants arriving from Mexico 200 years were introduced as food - an alternative to the potato. James Wong, ethno-botanist and TV presenter, praises them for a flavour reminiscent of the jerusalem artichoke and recommends grating them into that delicious Swiss dish, rosti. A word of caution, choose the dahlia that you will nibble with care. The breeding for ornamental looks has been at the expense of flavour. And BTW the bit you eat are the fat salami like roots. Deer and rabbits love them too.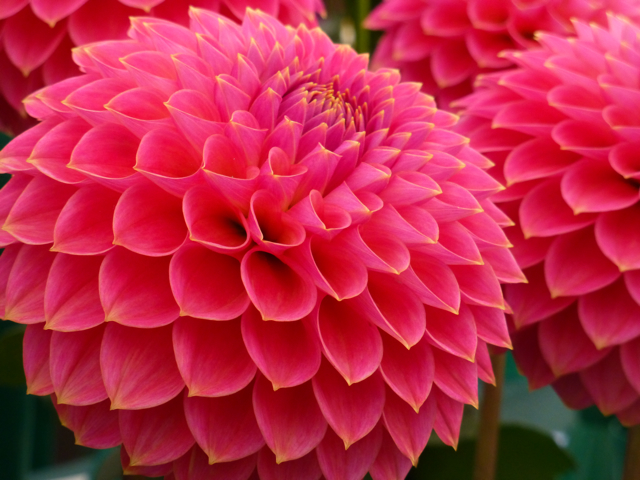 It was the Victorians that crazed the fad for competitive bloom-growing. Dahlias hybridise easily and the breeding has seen them go in a bewildering direction of colours and flower shapes.Some with heads the size of small footballs. The RHS Dahlia Show last month hosted display space to a frenzy of frazzle dazzle behemoths. It gets quite techi with cactus, waterlily, pompon and colerette shapes to name a few. Don't worry about that as a list of the 10 garden must-haves will be at the end of this article.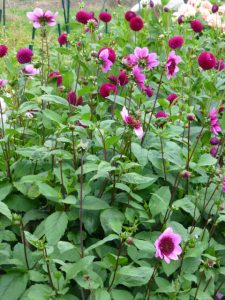 Why use them? They bring punch. The kernel of dahlia excellence is that they put up strong growth in one year, heave themselves to about a metre and a half and then start spitting buds into magnificent showy blooms (my recommendation is to avoid the DD cup sizes). This firework display starts in July - just when your roses are a little sulky and many of the favourite perennials are spent. Then there is the choice of colour - Not dissimilar to choosing swatches of silk. From smouldering dark vermillion through to creamy white with reds, pinks, yellows and oranges inbetween. And some are bicoloured too. Dahlias are a flower arrangers delight and picking them will promote the formation of new buds. Picking apart, how do you grow them? I bought my tubers in February and potted them straight into 2 litre pots. A little bit of nurturing is involved at this stage. That is to say, keep out of frost and the pots should be kept watered but not drenched. A cold frame would be an ideal place to store them but otherwise put them in a sheltered place out of the vagaries of the worst weather. Under a tree will keep the worst of squalling rain at bay. Once the frosts are over, plant out, stake with a stout piece of wood (broom handle size in diameter and c. 1.5 metre high). Dahlias are massy plants so leave a metre between each one. Put out slug pellets round the new plants. Once the buds form, feed every two weeks or so with a liquid feed. Water once a week if we get another Suffolk drought. From then on it is plain sailing , tie in as the plant grows, keep an eye out for snail incursions and get ready to start picking. The dahlias will flower and flower until the first frosts. At this point, cut back the top growth and mulch heavily with leafmould or similar. There is a danger that low winter temps will kill off the fleshy roots but tubers are cheap and any gap gives the opportunity for trying out a new variety. Where is their place in your garden? I've mentioned the tired perennials. You will have a pretty good idea where the gaps are going to loom in your borders. Plant the dahlias - say two or tree together where the perennials are going to tire out. Juggle your colour sense- if you have chosen orange ones, bounce them off your late blue salvias or aconitums (no dahlias do NOT come in blue) Or have them in large pots on your terrace or by your front door. They are an absolute god-send for the autumn wedding as the garden draws itself back into a sombre rather monochrome suit.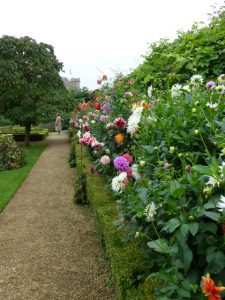 At Rousham Park in Oxfordshire, which has to be about the classiest garden in the entire nation, they have a double take of dahlias. Plenty in the walled cutting garden and then they have a knock-out border of mixed flowers about 100 metres in length. Aspire to that. My favourite types? J Gerri Hoek - pale pink and reminds me of a peony Western Spanish Dancer - for shockable two tone red and yellow sea urchin Downham Royal - dark very small controlled honeycomb Happy Halloween - super orange Bleu Bayou - lilac bloom with dark centre Sam Hopkins - velvet black red Bishop of llandaff - pillar box red on black stems Thomas E. Edison - shocking magenta on black stems Twynings After 8 - that black again with white flowers Jescot Julie - orangey with a plum afterglow I have a certain weakness for the black foliage - but all dahlias are leafy and robust healthy looking things. In order to encourage pollinating insects, choose the single flowered forms. Here's a real project to plan in the grey months ahead for a ripping display next October. This copy first appeared in Essential Suffolk Magazine.