[caption id="attachment_1477" align="aligncenter" width="480" caption="porch planting at Great Dixter"]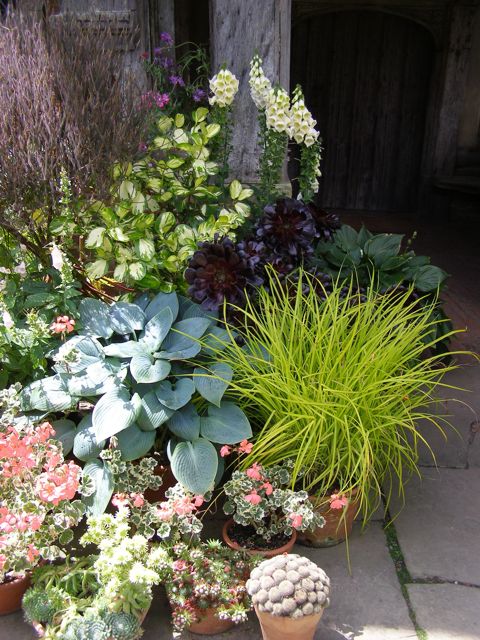 [/caption] There are a few rules that you should keep returning to.   Consider the effects of foliage,  form and texture.   Treat the exercise like decorating a room or flower arranging.  Think what goes together.  For leaves a mixture of large blades and strap leaves, some upright will be much more interesting. Research  shapes of plants and overall size and spread and remember, less is more.  With these in mind, proceed to the strictures and advantages of the specific site: Choices will be limited by soil type - is it waterlogged and then bone dry in summer? What is the pH?  Climate, for instance  is the area sunny or shady? Will the plants get looked after well, or at all?  On the seasonal front:  when is this part of the garden viewed? Does it have to perform all year round? Then the creative considerations follow:  what sort of mood do you want to evoke? Formal? wild meadow?  This will be governed, to an extent, by how near to the house the flowerbed is.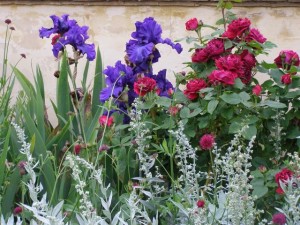 Decisions on colour and shapes follow.   Think what effect you wish to conjure with a plant before homing in and making specific choices. With colour  if a building or wall is anywhere near at hand relate your choices to that. Make a finite list of your plants to work from.   Treat it like the swatches you might hang round a room to be decorated.  It is your  palette and work within it, perhaps not using all the plants.  Double check to see that seasonal interest (if required) is represented and remember the job that topiary or bare shrub branches can do in extending the season.  Box edging or balls can be invaluable. An aside tip, add bulbs last of all - or the following season, if necessary.  Choose a "filler plant:  that can be sprinkled around while the slower shrubs get going.  I often use foxgloves or black voilets in shaded places. [caption id="attachment_1475" align="alignleft" width="300" caption="Molinia caerulea at Scampson Hall"]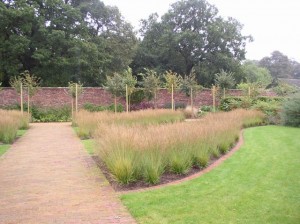 [/caption] Use rhythm and repetition as you make your plan for the flowerbed - using different cultivars within a genus can look fantastic - eg:  different types of heleniums or using various members of the scabious family. Where specifying a large mount of a single type of plant, it may be worth the wait of buying in stock plants and then propagating off them.  The wave shaped beds at Scampson Hall, Yorkshire have an army of 
Molinia caerulea
in serried and dramatic rows.  These were propagated in this way.