[caption id="attachment_399" align="alignleft" width="225" caption="Exbury gardens"]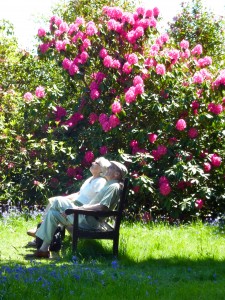 [/caption] On Sunday went to Exbury Gardens  on the Beaulieu River, Hampshire.  It was at its rhody best.   Lionel Nathaniel Rothschild bought the estate in 1919 and imbued with plant fever, set about planting like crazy.   The likes of Frank Kingdon Ward and George Forrest were sailing into Tilbury Docks with seeds and specimens from remote and far-flung lands.  Rhododendrons took off .  This garden is said to have best woodland collection of them in the country. It is a great place - could practically be one of the great Cornish gardens except that you don't fall into the sea but gently wander out onto river marsh instead.   Get there PDQ to see this display.  I take back all my negative thoughts about this species.  As usual, right place, right plant. This was Sunday and I came here with my good friend Panda - she of the tree tragedy, the fallen colossus in the river.  Scattering swans left and right - school? covey? shoal?  we walked through the water meadows to check the damage and plot the remedy.  Grass terraces like paddy fields down the side of a himalayan foothill.  Not very much else though. Got to Hampshire via Oxford, and the Sheldonian Theatre (why does it have that weird name?  
obvious - commissioned by Sheldon and inspired by D shaped Temple of Marcellus
) - built by Wren.  Degree ceremony in full latin.   Much bowing and [caption id="attachment_402" align="alignleft" width="225" caption="Oxford"]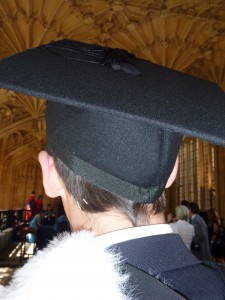 [/caption] doffing of mortar-boards.  Not my degree but for oldest son, poised to leave for Damascus.