Goodness me, how calm  this flower show seemed today.  Restraint was the theme around the grounds.  In the Grand Marquee, down the spine of  Main avenue, out into Royal Hospital Way and beyond to  the outreach section in  Serpentine walk,   it was shooooooosh and hush in looks.
Easy too to get confused about what was an Artisan's garden, Fresh garden or Show garden.  I did stop and ask someone in the Fresh department, but they were busy making a discrete film and politely suggested a return visit later.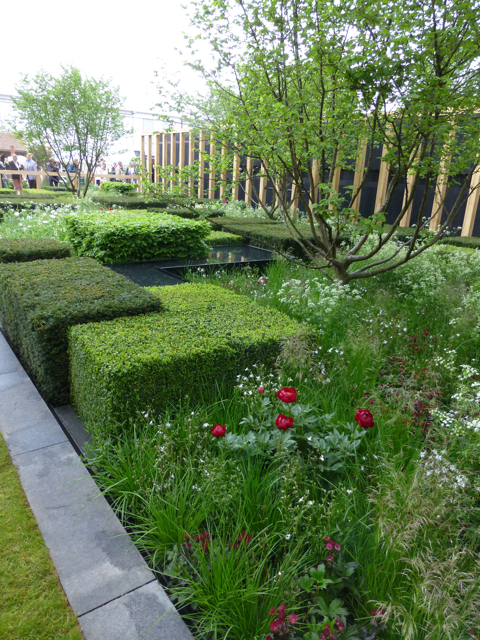 The major gardens that were being filmed with cameras on gantries were all  muted, snatching at blocks of formal hedging and bits of meadow.  Over past years, Christopher Bradley Hole has put on displays that have stopped and stunned with their simplicity and innovation.   Always a clean intellectual classical brief behind the  design and planting,   Bradley  Hole  has influenced a whole flotilla of designers.  These, over the years,  have come to step into vacant shoes.  It is not surprising that a derivative theme breaks out.  The outward ripples of water disturbed by a pebble, seem to have washed back over him.  This time round, no ooooh-ahhhh factor at all.
Where has all the colour gone?  The weather has been appalling but a glance at the plant lists bears out the them of green.  Tulipa sprengeri, for instance, will make the shyest appearance even in full spate and competing with lush grasses.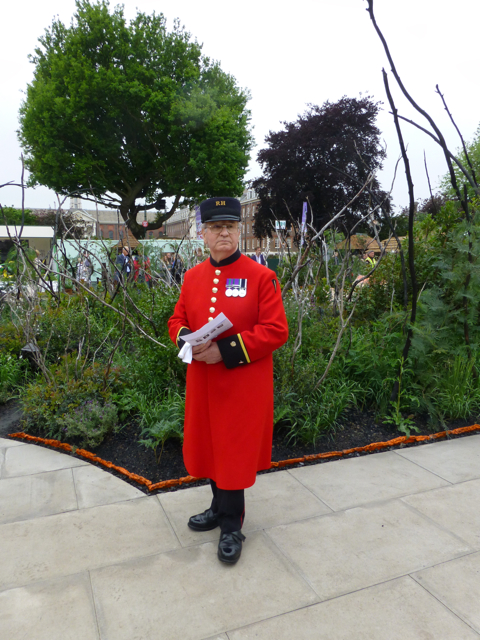 Thank goodness for the Chelsea Pensioners'  uniforms and, to combat colour-starvation,  the quite remarkable installation by Marc Quinn.