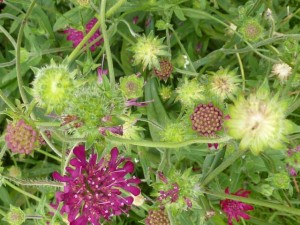 Catalogue time is here again.  All through the summer they have been thumping through the letter box.  A dusty pile has grown in the corner.  In and out of a pink basket and to Edinburgh and the seaside and back.  Unread but then August is like that:  a month of neglect.  It is either too wet or too dry and distractions float like gossamer in the breeze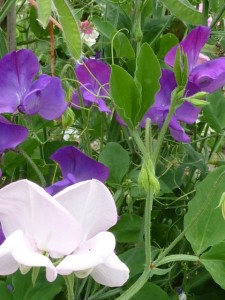 September ushers in the gardening year.  With a degree of urgency too.  We've acquired a new-old garden and we have been waiting and watching.  The weeds have rioted, climbing about unruly, scattering seed and throttling as they go.   Brambles have scrambled high into trees, nettles have settled in many generations worth and the couch grass overwhelms the more delicate specimens with a deadly embrace.   The campaign for the winter months is to cut back, dig out unwanted plants and take stock of what we have. Hand in hand with this we  start to make plans and the  dance of  the catalogues is underway.  They are sultry and  alluring.  Easy to fall for roses just for their names:  sweetpea packets in anticipation of scent and the Costoluto Fiorentino tomato for being so ugly.  The description :  "Medium large, old fashioned, misshapen, heavy"    reads as if from London Review of Books' personal column .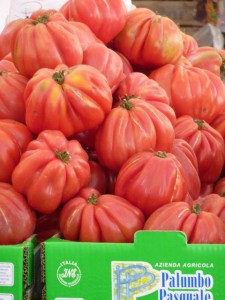 But from words, the lure becomes unstoppable with the pages and pages of pictures on shining creaking paper.  A particular weakness  for tulips breaks out.  All colours and shapes.  Stripey ones, crystal-frizz petals and the lily flowered  and peony types.  How to work through 34 pages of tulips and order with moderation  where  prices are quoted by the 100 or 1000? Numbers are so utterly beguiling - the pulse quickens with the possibility of a good bargain but what shall I do with 450 tomato plants?    Or 100 tulips for a pot that only takes 25?   In  hat professional I like to plant in large blocks as a monoculture - a big flowerbed might have patches of 6 or 7 square metres of the same plant.  But mine  is a town garden and  restraint is the word for success.  In fact, writing this I have  realised  that it would be better to buy nothing at all - the garden is far from ready for it.  For me  virtual bulb buying only this autumn.  A few packets of seeds?  Perhaps.