[caption id="attachment_2687" align="alignleft" width="225" caption="Yew edging at David Austin Roses"]
[/caption] Box blight is becoming a  scourge.  I read a recent  article in the gardening press that offered alternatives to
Buxus sempervirens
.  None of the plants on the list did the trick for me. The thing about box is that it tolerates dry shade.  Lavender? catmint?  hyssop? Please - they all want sun. Obedient to the topiarists scissors?  I don't think so and despite the rumours, the murmurs and the full blown fear of blight getting its toehold round here, I went and bought bare rooted box plants to grow on and take cuttings from.  They make me feel the ticking a time bomb.  That blight is creeping every nearer.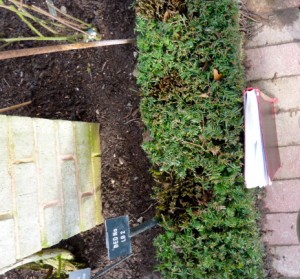 And then it came to me in the middle of the night.  What about those neat little hard clipped hedgelets at David Austin Roses?   They are kept smaller than your average box edge to a bed - a veritable bonsai hedge.  See my photo -  my notebook which is 30 cm high matches the top height of the clipped yew.  I had gone there for a Design day - the t
axus baccata
doing its thing stole the show from the lovely roses.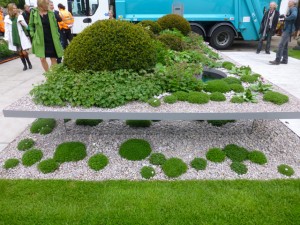 And what about full blown buxom roundy shapes on a small show garden at Chelsea?  "So slow growing"   but I am sure that reputation is exaggerated.  Next time you pass a specimen of
Taxus baccata
bend forward and  and stare into the new season's growth - so many shades from the green of cooked spinach to rusty brown.  Box you may languish as yew can do exactly what you can, only better.