Thursday last week was one of those days when the sky had been hung up  to dry without being wrung out.  It rained and when it stopped,  pregnant raindrops hung in the air.  Under a soft grey underbelly of cloud.  I could almost have fooled myself into being in Cornwall. Walking with squealching feet down  one of those slopes where the camellias hang together,  to the sea.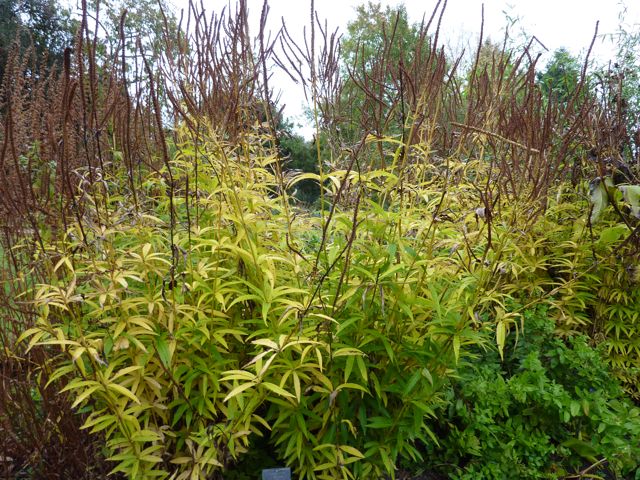 Back to East Anglia though.  I bicycled across town to visit the Cambridge Botanic Gardens.  It was magnificent for strange partnerships in autumn colour. Symphony of butter yellow with rust brown.   However would  have cooked these  two up? The
Veronicastrum virginucum Culvers Root
marries the two. Round the corner, the yellow brown thing got even bigger and grander.  Anchored by the fiery brown of the swamp cypress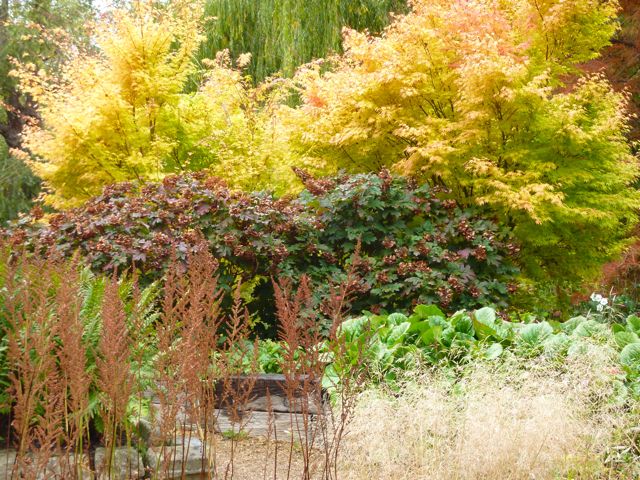 Taxodium distichum
going into needle-shedding mode.To set off the picture above of two
Acer palmatum Sango  Kaku
with a astonishing display of brown, maroon, russet from the
Hydrangea quercifolia Snow Flake
.  The bleached white grass is
Deschampsia cespitosa
beside rusty stalks of
Lythrum salicaria
.  Reliably green bergenias tone the scene down but even they are on the move.....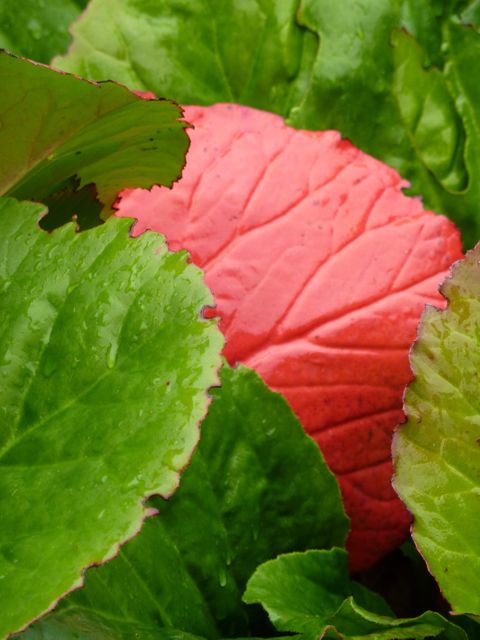 It is not often that a plant that has earned itself a frequent place in a municipal carpark, gets a look in.  
Cotoneaster horizontalis
is one - I have even sneered at it.  But now I eat my hat for it appeared in all its architectural splendour and backed up by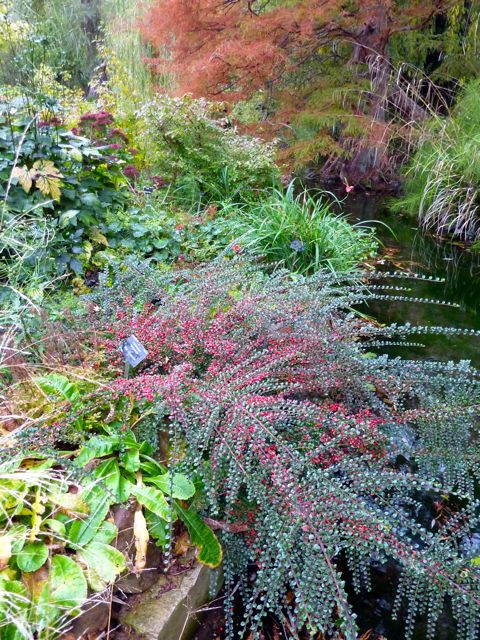 intensity of colour.  The gorgeous brown in the back ground is the swamp cypress once more.  A plant to have a crush on, particularly if you can plant it in shallow water.  It will develop knobbly knees to help it breathe.  In far-flung times this tree was a native.  Banished by the ice age, it was re-introdued by John Tradescent in the 17C. There were magnolias, viburnums, callicarpas, dogwoods.   These images are a mere bite of the autumn sweetshop of colours in the Botanic Gardens.  Get there before the wind does.