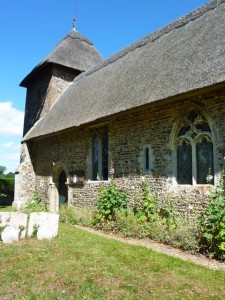 We'd made a plan to go and look at some graves. A little eccentric perhaps. But in the spirit of humoring the quirks of others, I went along with it. It was my mother's firm wish to visit the place that her father's family had come from. And so we went to Norfolk. and a day of mixing past and new unrolled. We stopped to break the journey at Thornam Parva church, spitting distance from the juggernaut A146. The thatched building houses an early 14th century screen, rich in saints and gilding. There are also traces of fresco, including a Catherine wheel and Basil Spence is buried outside, an old friend of my mother's. We began to stumble over the past. In Norfolk we were in go between country and tracing our way by map, we finally tracked down a hamlet. Our new/old relations were living in the same house in the same village where my great-great grandfather was born. And though I'd never met them before, here were our people now. Perhaps I should explain that we have never been family types. An itinerant diplomatic upbringing - 3 years on we were no longer there, wherever that was. Short on rellies, we didn't bother with cousins, and the family tree stopped with my grandfather. Or not. I was dimly aware that he had a family tree of lines and rules and use of red biro, tucked away in his rolltop desk to work on on rainy days.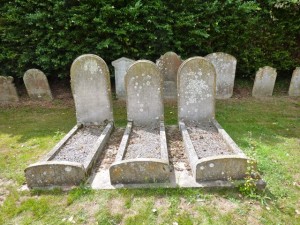 My newold relation took us to the Baptist Chapel. We met the Vicar and told her that we were descended from the occupants of the tombs outside. Two sisters married two brothers and one of them was Rhoda, my great-great grandmother. She died aged 36 and then when her husband married again, my great grandfather got the hell of there to seek his fortune. This oldpast thing is like doing a jigsaw. The very same day that we were in Norfolk, my brother was going through my grandfather's papers. Clearing an old cowshed before the builders arrived. Out came a whole archive, paperclipped, folded, brown enveloped. Letters, a photograph of Rhoda softly coloured up and mounted in a Regency frame, In memoriam cards, invoices for restoring those graves and the family tree.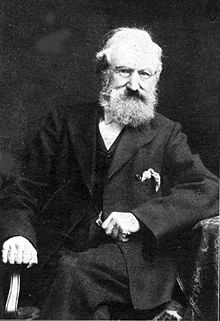 So now I want to introduce you to Mordecai Cubitt Cooke, Victorian naturalist, mycologist, teacher and eccentric. A serious mushroom boff, he wrote 36 books, including "The Seven Sisters of Sleep: A Popular History of the 7 prevailing Narcotics the World". Holder of medals from the RHS and the Linnaean Society, he's Rhoda's father and my great great great grandfather. I am as pleased as punch that I can now foray back into history and claim folk.