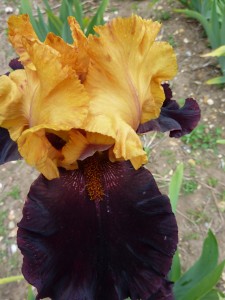 The trouble with some plants is they shyly make themselves impossible to photograph, and this one,
Iris germanica Vigilante
, slyly squatting in Mike Loftus's iris field, is one such.  Hiding its eyes beneath a fringe, or droopy standards (to get the argot) and all this talk of beards , I'm definitely put in mind of the late Tibetan. If you have any time in the next week and happen to be in a place where the irises flower in profusion - in the Loire and had enough of chateaux? Track down Monsieur Cayeux and his peerless iris fields.  Down in the West Country? beat a path  to Kelways.  For the East Angles,  Woottens have a pretty good selection. And that is where I just spent a heavily overcast morning.  It played havoc with the colours which was great.  The default position tends to be an unnecessary amount of drooling over the dark glossy black monsters.  Ever good looking under strong sunny skies and contrasting well with the glaucous pearly green of leaf and stem. [caption id="attachment_417" align="alignnone" width="225" caption="Iris germanica Swingtown"]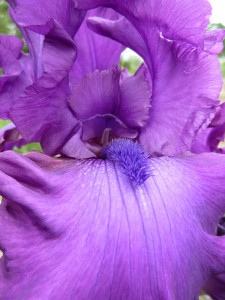 [/caption] We went on a rampage, with 4 acres to run amok in and 300 or more varieties.  Not all are in flower right now but there is plenty to feast on.  We got fussy, seriously fussy - too frilly, too rude, too short, too flowery, flowers held too far above leaves, flowers held too far down stem, rubbish leaves, and so it went on.  Too much choice? Act ruthlessly.  Now I know how those over-subscribed universities feel. But the list in my book of those that I want to buy still got slightly out of control.  This one, Swingtown (name selection leaves a bit to be desired) would look really cool with
Allium aflatunense Purple Sensation
-  both flowering  at the same time and of a similar  hue. Today's real hunt was for an orange one:  a client with a giant bed has orange ephemeral poppies out and fluttering on their stems right now - the bed has some really large dark bearded irises called Matinata, but an echo of the bursting orange of the poppies will give it a lift.  Again that frilly problem crept in, or the beardy bit was an annoying colour.  Began to feel like an oversaturated person at a wine and cheese party, incapable of any discernment or conversation.  Then hey presto - came across 'Feu de Ciel' - properly orange, not too big and with the added distinction of smelling of chocolate. [caption id="attachment_418" align="alignleft" width="225" caption="Iris germanica Kent Pride"]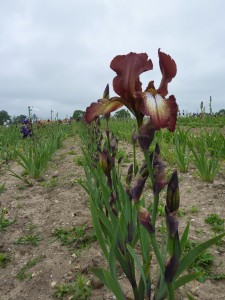 [/caption] My own shopping list will have the following two: Dutch Chocolate,  a proper copper to be  co-planted with the one pictured to the left, Kent Pride.  It's a true brown shading into white.  I don't know its provenance but it looks truly old-fashioned.  It has that special quality of the colour breaking up in a pixilated way.  However, what is dead covetable about this plant is an appearance of 'straight off the drawing board'.  Buds are fat and etched in maroon and cleave tightly to the stem;  a maroon striation splashes out into that too. Definitely looking good in its new Beano Club Tshirt.