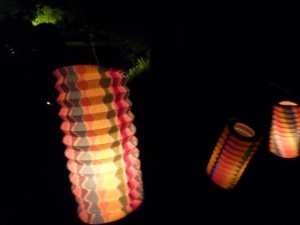 I have just returned from a completely magical evening in Parc Oriental de Maulevrier, Anjou,  France. At utter nightfall we made our way  through dark Maulevriers and past a rowdy wedding in an overgrown village hall.  No-one had closed the curtains so we stopped and peered in at food on  trestle tables,  some guests sitting it out round the walls;  the rest whirling to the fiddler and band. In the dark at the park entrance, subtle artificial lighting threw moonlight across a stretch of water.  We swapped our bags for  paper lanterns.  They were those concertina ones that unfold like a squeeze-box.  I've seen them in the Rupert Bear annuals - he and his pekinese chum are big into them.  Paper reconstructed, candle lit,  we hung lanterns onto a longish hooky stick and sullied  forth into the very dark park.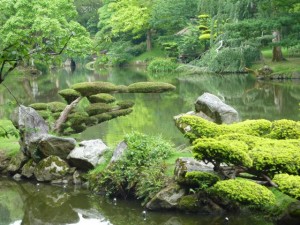 For the childish, the lantern is almost a complete treat in itself.  I'm perfectly content to be twirling it on its stick in the frog-croaking dark (and boy are these Anjou frogs the loudest I have ever heard). But there is more, so much more to this rather fairy-like post supper treat.  And our party has been brave we have eaten cheeks and tail (happily rendered down into a flat hamburger disc of anonymity). First, the lighting engineers have been here and left a series of beautifully uplit trees in their wake.  As the name gives away, the Park is planted in the oriental fashion.  A plethora of healthy bamboo culms are repeated through a landscape set with mossy rocks, stone  paths and roaring torrents.  Our guide throws out snippets:  the bamboo, with its flexibility and strength represents friendship.  Cleaving to the oriental theme with  a little eclectic wandering into Cambodia and China, the Japanese mood dominates.    A team of experts, visiting from Tokyo have declared it to be properly Edo style. There are two qualities that make the park superb. The first is the large stretch of water at its heart.   This with mirrored reflections of trees and the twinkling of upside-down lanterns in it becomes trippy and awesome in the dark.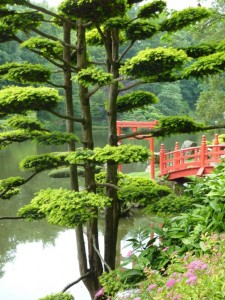 The other is the Japanese treatment of the pruning techniques.  The first  is to make a transparent view through a tree to lead your eye beyond.  But for the dark visit, the cloud pruning shows up as balls and clumps of black silhouette.  Tim Burton, eat your heart out. The clever park people  have piled on the atmospheric curliques, layer on layer.  There are hidden sound recordings in the bushes, haikus hanging from the trees.  The placing of incense sticks by grottoes and temples.  Subtle lighting up-lights trees and plays reflections across the dark water. The daytime visit is essential  but go back after dark  for  a sensation.  The best time to experience the yin and yang is night-time, our guide pointed this out and in his words "you smell better in the dark"  ohmmmmmmmmmm.