I am up  in my freezing cold attic,  under self imposed lock down. Not allowed out till the mind, the fingers and the keyboard get going.  Lurking round the cold pool before diving in.
So there I was in a sizable sixteenth century barn.  Acres of polished concrete floor, beams like the a crinoline of whale bone.  This stark skin housed two internal grain silos and cabinets full of taxidermy and knitted toys.  And the visit was to make a chink of a link between Ben Coode Adam's art and my thing:   gardens, landscape and the great outdoors. It was  based on a  a gentle stroll round Ben's parents grown up and covetable garden.  During this we looked at a few of his installations and tipped a dry toe into his considered and well thought out philosophy.    The man's an artist, a first division one, with a lustrous CV.  Bouts of artist in residence, one-man shows exhibitions and the like. He is serious and friendly too.   I am taking  him away from turning some very rebellious slabs  of ash into an outside floor for a lavatory block.  We leave his assistant Dave wearing ear-defenders and wielding something that might be an adze.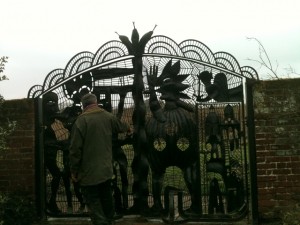 Afterwards I hurried home and looked at "Grand Designs: Grade II Listed Timber Frame Barn Revisited".   Big mistake.  There are Ben and Freddie Robins, his wife and a Royal College of Art lecturer and sporter of many and varied hairdos.  She was away teaching in London the day I went. On-screen Freddie  was articulate and composed, breathtakingly dismissive of the middle class dream.  She does not like the "nice-fication" of houses, is sceptical of life beyond the M25.  I watched her stride round in her hard red hat and become smaller and smaller until I could fit into a matchbox, like Alexander Beetle.  Meanwhile there is  Ben straddled on the roof top, laying tiles or seen welding metal, uber manly. And this is the first stab at an interview that I have ever made - well not quite, there was a former incarnation where once a  month I trained off to some far part of the UK to interview  photocopier salesmen.  These were Thatcher's lads and they sent me packing, gauche and perplexed.  "You wouldn't sell cucumbers to Fortnums!"  I wouldn't?  Why ever not?   Ben was not in the least like this,  but fumbling to take photos on my smart phone and making  a truly crass attempt to record his voice,  I can hardly believe I set off so unprepared.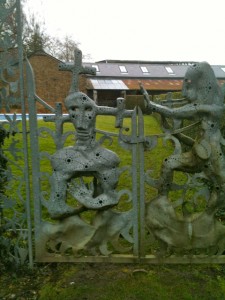 So Ben lives in the vast barn and works and turns his hand to pretty much anything.  Wood, metal - here we are talking of metal and large installations.  We look at one in the garden, inspired by japanese art with a gold backdrop.  There is a fierce amount of engineering involved.  It is a 50 metre span of galvanised metal, see-through like a cobweb but providing a prop for the whipping about and violence of large climbing roses.  Curve both convex and concave in the length of it and made off-site.  Ben's involvement in metal work is industrial  in calibre, with the welding of huge pieces. The barn gives straight onto the farmyard.  Very nice to step straight into a working one.  It is a seamless step.  No carpets, curtains or other paraphernalia.   I am beginning to get the anti nice thing.  The east side, looks out onto the river and newly planted wood.  No garden at all, just good honest timber planks. It all sits together well. The barn and other buildings are part of a very old farmstead.  Set round a manor house, dating from the 12th century and much patched around and grown on over the centuries.  The Listing text from British Listed Buildings is enough to make you salivate.  Especially this paragraph: "The manor was held by the Abbot of Westminster from an unknown date,bur certainly by 1343, until the Dissolution, Henry VIII granted it to his newly created Bishopric of Westminster in 1540".  That very first bishop must have caused the barn to be built.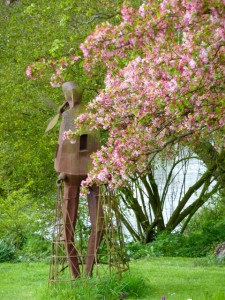 And then there is the garden that opens for the Yellow Book and holds itself together as a neat and tidy place.  Immaculately gardened with plants to drool over and a small but advanced arboretum a the bottom of the hill.  As an aside, Mr Coode-Adams senior has been pretty hefty in the RHS,  serving on  the Woody Plant Committee and standing in as president when Peter Buckley died untimely. The place  is given a serious shove up by a rich furnishing of commissions and installations placed by Ben.  The screen is the biggest but but not the boldest. There are two sets of gates.  One shows judgement day and includes the eye of the needle.  I get through easily, phew.    This is a massive pice of ironmongery, worked onto wheels in a track to bear the weight as it opens and shuts.  The other takes  a
carne-vale
twist on death.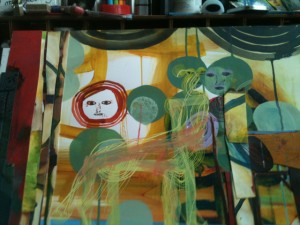 We chat about who might or might not commission art in the garden.  I would love a work of art that worked as functional and could be in my garden.  Ben is cynical,  Venus di Milos, cherub figures and marble maidens are what the public is after.  What a terrible way to play safe.  I ask him about The  Cass Foundation and Roche Court;  both are sculpture parks where everything is for sale.  He tells me we are talking big price tags.  But let us take gardens away from the complacent and safe.  If I had the money and the space.......... We finish up with a look in the studio.  He and Freddie have bookcases to the ceiling.  A vast stock to feed the mind.  There is an aura of energy and a look at what Ben had on his easel that day, made me covetous.  People climb out of your nicey complacency and commission some art.  It is time to have your thoughts provoked.    Visit www.bencoodeadams.com ENDS.