Five years ago this garden  near the Wash won the Christies and Historic Houses Garden of the Year's prize.  I'd never heard of the award  but it sounded promising and so, on a day off, to Houghton.
What to do with your walled Garden when it is beyond strolling distance?  The dilemma  increases with the size of  your house;  the grander your pad the further away that walled bit is.  Not a problem in the days of large teams of gardeners providing cut flowers, exotic pot plants and vegetables by barrow-load.  Houghton House is way up the scale and the 6 metre high brick walls enclosing 4 and a half acres are quite a few cricket pitches away from the uber grand  villa built for George I's prime minister, Robert Walpole,  at the height of his power.  He had already had pictures, furniture, good books.  The house was built to show them off. I  came here skirting  oh so many Kings Lynn roundabouts - north Norfolk has the quality that you drive and drive and never seem to get there but the final blessing was Go Between country and avenues of trees sallying forth beyond the deer park. This in turn immaculate with browsing line, Fallow munching, the family chapel glimpsed behind boughs.     The estate  is  grand with nary a souvenir shop in sight (marked contrast with the buzzing level of commerce at Highgrove where scone and tea will set you back £7.99)  But then of course the Marquess of Cholmondeley, lucky chap, is worth 60 million and so this is no tin pot attempt to revive the family fortunes.  Interesting to compare opening times with Sandringham, only 7 miles distance -  March to November.    Houghton merely  from May to Sept. I soon got lost in a crowd of Panama hat wearers;  serious picnickers on their day away  by Audi with tartan picnic rug.  And tasteful and lovely it was.  Just right now the house is hosting the return of its spine-tinglingly  good original  art collection.   Many Panamas were here for that. The plaque says it all.    The 7th marquess inherited in 1990 and set to to grapple with his walled space.  The gardens opened in 1996.  By now they are mature and make an interesting study in maintenance and planting and design.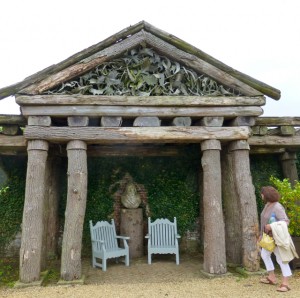 The entire space, a  square,  is divided into 4 main blocks with a stupendous old fashioned border motorwaying it down the middle to a far view of monumental glass houses.  Within the four squares there are divisions of space for a croquet lawn (nearest corner to the house for C and chums to nip on down here in blazers with jugs of Pimms)  and a formal area  called "Italian garden"  that looks like a memorial to something very sad.  Discounting them there are really 6 gardens of which the biggest wow and ooo-lala is given to a formal rose garden. Where to begin?  A badged volunteer sold me a tiny squinty garden plan and suggested a walk round the outer 4 walls, peering in to the inner views first.  This was good advice. The outer walk  graveled and at 3 metres wide could have swallowed hordes of us - even the punters on the speedy mobility scooters.  You sweep or pace past wide mixed borders. and are kept from the surprise of the rooms within by hefty hedges - crenellated clip of yew, jelly mould yew, hornbeam on stilts (hedges of envy indeed, as thick and high as a London bus).  The North facing borders brim with hellebores,
Geranium psilostemen
, hosta and
Osmunda regalis
keeping most of the weeds at bay.  The  beds are broken up by a palladian edifice, fat tree-stumps for columns,  begirt with antlers.  Aha this must be the garden designers, the Bannermans,  at work.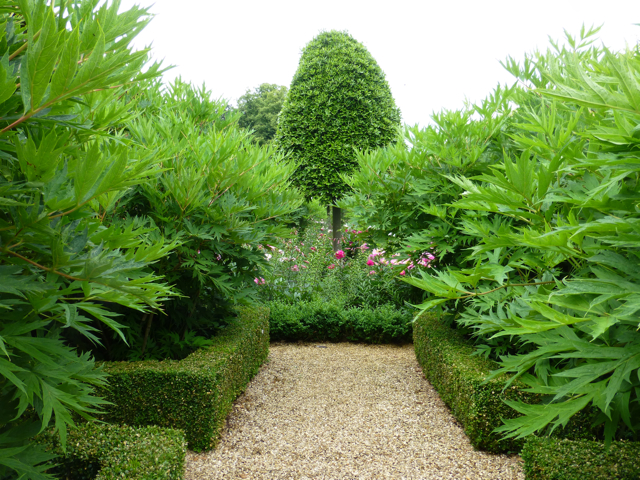 This husband and wife team are very keen on their jokes - the Cardinal garden makers of the Renaissance would have snapped them up.  Jokes and follies for deep lined pockets.  Beyond,  a pergola more than 65 giant strides long.  Each turned wooden column embraced by its own wisteria. Along it,  there is a planting of peonies in box beds.  This sings.  The box has been kept low and narrow in girth. Married with  immaculate gravel, precision clipping and fruit pastille standard hornbeams.  The perfect set for  mad dance of tree peonies, dervish wisteria whips and and loads of green frondy movement.  Massed upturned faces of peonies are in amongst the lilies.  (How come no lily beetles?) Conservatory and Propagation house  and cold frames to  trump any dominate the south side.    There is a nice feeling that this garden is not just for show (though the Cholmondeleys  must get lost in it amongst  a veritable army of gardeners).  A series of diamond beds frame nectarines and apricots.  In them  bedding of mint scented pelargoniums and heliotrope with
Cosmos atrosanguineus
- this on a hot day is going to be a nosegay of cherry pie, bournville chocolate and mint.  Ideal venue  for a Fat Duck eating of advanced puddings.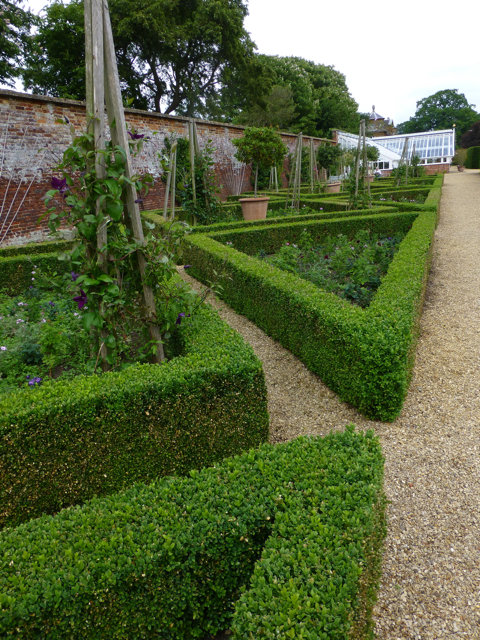 And scent takes me to the rose garden.  Occupying  about an acre with  an outer and inner section.  The outer walkway is a riot of philadelphus, foxgloves and old fashioned roses:  Charles de Milles, Belle de Crecy and the like mobbed by dianthus, iris, phlox and other sweet smelling plants. Go through a curlicue curtain hedge of yew to the inner rose garden.  A formal massing of roses of one type per bed.   In the first,
Rosa Iceberg
,   I turned up a bloom or two:  no perceptible smell at all.  No doubt due to visiting in a a breeze.  But odour apart, this arrangement of roses looked old fashioned and static. [caption id="attachment_2832" align="aligncenter" width="640" caption="Mediterranean garden"]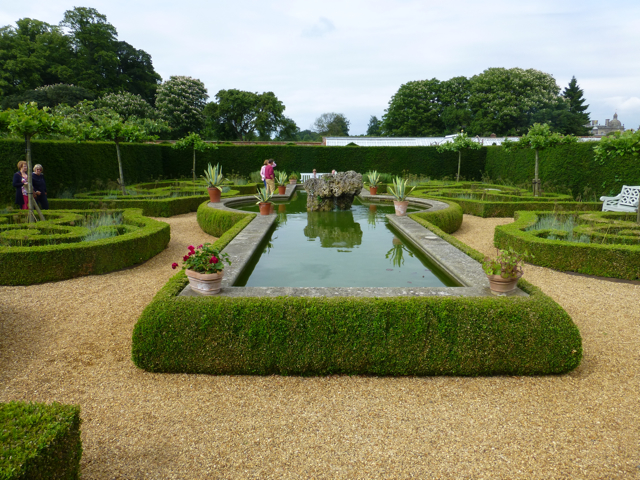 [/caption] From there there are three small gardens that rub shoulders, are very different but work back to back.  The spine is the Cherry Walk with bumptuous curvy box edging to iris beds.  The york stone is sumptuous.  Veer off to the right and loud splashing water dominates an enclosed meadow played to by the water flame sculpture.  The Marquess is collecting.  Though lovely in splash, any sensory pleasure is ruined by the roar of firing up and a greasy oil slick on the surface of the water.  The pool in the so called Mediterranean garden  beyond the cherries is quite a contrast.  Box clipped to the max with alliums and lavender within its coils.  The water  in the middle is an ambitious large tank but the water lilies for the clothing have withered and died.  When they succeed, it will be a good and harmonious space.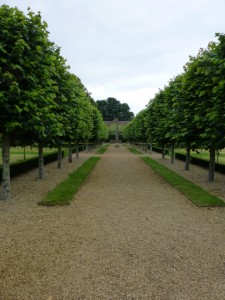 More gardens still?  The Fruit bit is an essay in flamboyant wooden cages and long allees of cordons.  All underplanted with lily of the valley likely to peg it in the sun.  I earlier mentioned the Italian garden which is a large tabernacle  of an acre.  It is a grid - dense and static lines of pleached limes and the red leaved
Prunus pissardii
with  an obelisk as the centre point. Visitors did not linger here.  The mood was too sombre but perhaps just down to wrong season of visit.  In the newly strimmed grass a smattering of martagons and one orchid held a promise of something much more interesting. Foil to the Italian garden, over grand as it might be,  was the relatively tiny wee and fussy vegetable garden.  Here some poor under gardener must be driven slowly mad clipping edges to perfection in incywinsy little beds of amaranthus and a struggling but highly symbolic
Morus Nigra
, propagated in direct line from Charles I.  How could proportions become so mean?  I guess the household does not have much truck with homegrown veg. The individual gardens need to be tempered by the entire experience.  There is a good atmosphere and a garden so busy and big that all visitors can be swallowed up, or seen as vital human scale in  this large endeavour.  Walk  the Long Border which says it is hot and then cold a la Jekyll but too much catmint splurges through the hot section.  The riot of perennials is interesting.  There was a definite tendency to favour the thuggish giants: macleaya, crambe,
Cephalaria gigantea, Echinops ritro.
I'd hazard a guess that keeping these large perennials from strangling each other is more than a challenge. Even more interesting  to see a replanted section where fairly newly fledged astrantias, day lilies, oriental poppies and yarrows were keeping to their own patch..  Or almost;  bearded iris were about to sink under the bouffant advance of the nearest cranesbills.  The standard of maintenance throughout these gardens is pretty awe inspiring.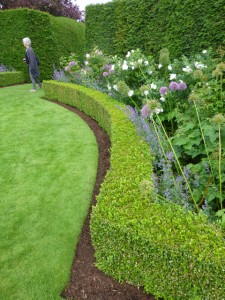 The lawn that surges down the middle is lush and green underfoot like a very expensive carpet and the edging is sharp, straight and unaided by any gravelboards or metal.  The planting is done with a good horticultural eye.    I am not quite sure what this garden is for - the owner, the punters, the army of gardeners? But taken with the house, the deer park and the surrounding landscape it is great for the punter. Last of all it is worth flagging up the burgeoning sculpture collection.  Richard Long's Full Moon Circle was a disappointment - it was too big to get  a view of without going up in a helium or hot-air  balloon and the seagull's have covered the slate in guano.   A mark of disrespect for bringing it from Cornwall?