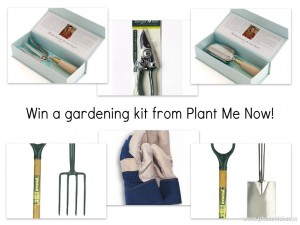 Those who blog a bit will be used to strange offers  for host posts on their site:  muscular pain, TV series and  waterproof trousers amongst them.  Most are quite wide of the mark but when
www.plantmenow.co.uk
sent in a request for top tips for getting the garden ready for this summer and the possibility of a fabulous prize for me to pass on to a blog-reader or fellow-tweeter, I sat up and took notice.  So jump in to a small competition.  "Why I love gardening in gloves"  is the haiku subject for a tweet  to @CatharineHoward or alternatively, a reply to this blog post.   140 characters max.  The competition details and terms are written up at the end of this post. Here are my five  Top Tips for How to make your garden a great place this summer: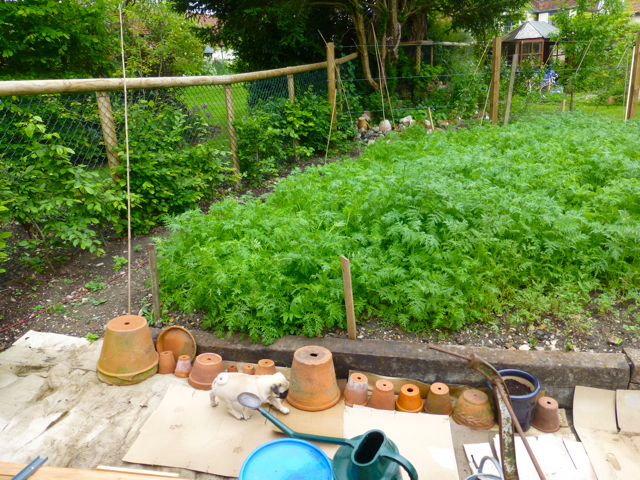 Well,  for me number one has to be defeating the weeds before they seed everywhere or throttle my plants.    I have two  weapons in my armoury.  Sow a flowering sward of a really attractive green manure crop -
Phacelia tanacetifolia
attracts pollinating insects and shimmers and looks lovely while  creating a weed suppressing canopy,  Once over, you fork the plants back into the soil and turn in a rich nitrogen feed.  A cheat's companion if you reckon you have missed the sowing window (remember 12 weeks to flowering) is to cut the heads off the weeds and then put down large pieces of cardboard to suppress growth.  See my picture of both above.  (NB includes Keith, very small pug). Weeds accounted for, you might have a little time to relax and my second tip is to provide for the relaxing places in your space.  Every gardener  should sling a hammock - once you have learnt not to fall out, they are the best way to relax on a sunny day.  Unfortunately our two would-be trees are thick with holly leaves which would deter anyone.  With our unpredictable climate I would wish on every garden and gardener a beautiful pavilion for sitting in and drinking either chilled chablis or ginger wine,  a place to contemplate the plants and a little out of the weather, is a must.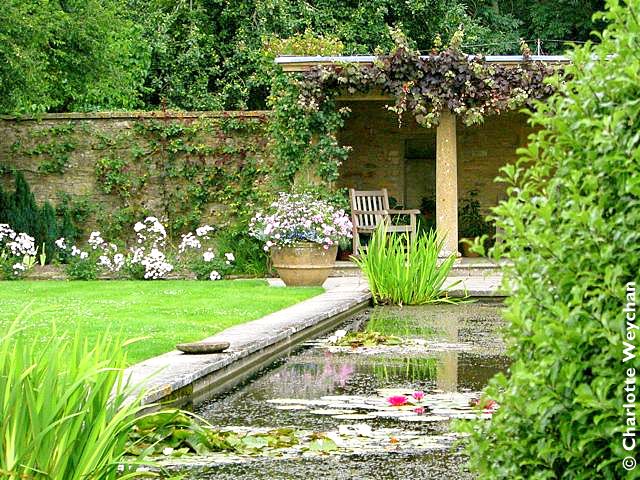 The pavilion at Tintinhull is my dream but alas all we have here is a falling down shed waiting for a DIY enthusiast to pass by. My third tip is to be able to produce some food of your own of your own plot.  If you have room, the keeping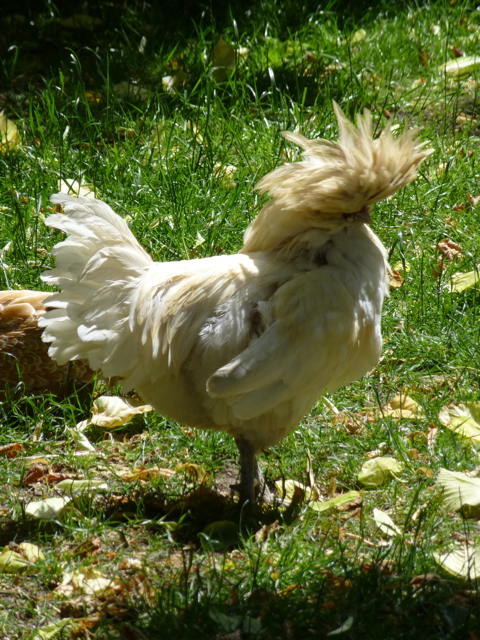 of a few hens is highly satisfactory.  When you clean out the hen house, bag up the sweepings and keep them to add to the compost heap.  Grow some easy crops (rocket, coriander and nasturtiums all germinate without any fuss) and then you will have a  light picking of salad leaves, herbs or  flowers to add to your salad bowl or drinks.  You are not too late to sow beans up a a wigwam of sticks.  Buy a courgette plant or two, a few tomatoes and put them in growbags. Number four is think ahead - I have already drawn your attention to the 3 month wait from seed to flower.  So get organised, the bulb sellers are already sending out catalogues full of gorgeous spring flowered bulbs.  Plant Me Now have a great selection.  Choose and order now then you can relax in your hammock and know that plants are in hand beyond the summer display.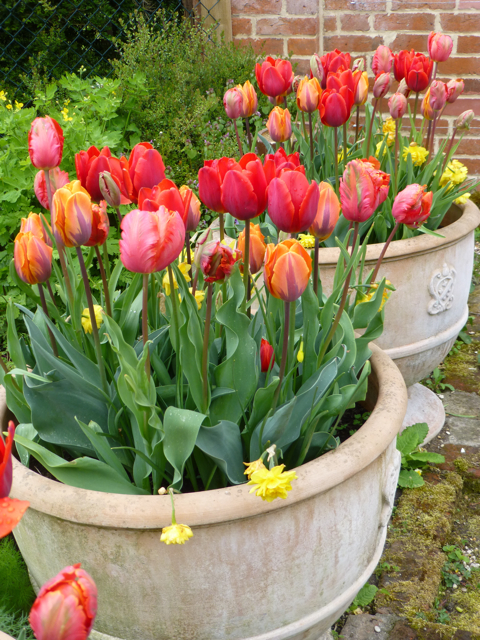 Finally for the fifth tip:    hands.  Now I know this sounds strange but I am fed up of apologising for earth-coloured and weather-beaten hands,  shorty nails begrimed is just not the way to be advertising your happy horticultural skills when you climb out of your grimey outdoor clothes.  Ward off hoary old hands - but you do need gloves that are not thick rough gauntlets.  So for my competition - do not be shy - send me a haiku by twitter to @CatharineHoward on 'Why I love gardening in gloves"  or  140 characters max posted on this blog.   Inspiration can be drawn from a cursory glance at Plant Me Now's
gardening glove collection
oh and while you are there  have a good browse of the great kit that I have chosen for the winner.  (Burgeon and Ball pocket pruner £14.95/Burgeon and Ball Trowel and Fork £29.90/Yeoman Stainless Steel Border Fork and Spade £45.90/Ladies de-luxe washable Leather Gloves £7.45. The competition is open to anyone over the age of 18.  Closing date for entries is 8pm on Friday 28th June.   Good luck! Terms and conditions:  UK entries only.  There is no cash alternative and the prize cannot be transferred.  The judges decision is final.  The winner's details will be forwarded to Plant Me Now for the prize to be sent out.