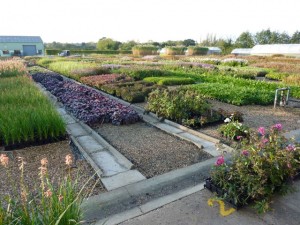 The flowerbeds at the  wholesaler looked stunning at 8am yesterday morning.  I could have spent hours wandering around in the tapestry of beds.  Photos snapped and names noted  of new sorts of perennials and grasses.  The late season has not been touched by frost, and though 'lifting' of plants has begun,  there is much still in full spate. Not so my trolley though which looked like a bunch of twiggy things.   My heart sank as I realised that this lot - not a big order but 125 bare rooted or very small in their 9cm pots was to go into the ground as winter weather frets on the horizon.  We'd taken a view though:  the largish  bed they are destined for ( on a rough pacing out, 12 square metres)was up to be filled with something a little more uniform and uniting than the present planting. [caption id="attachment_1386" align="alignleft" width="225" caption="my troller"]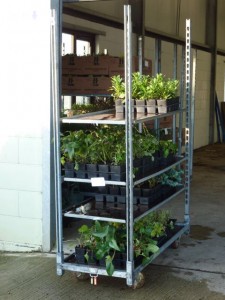 [/caption] We couldn't wait till spring as the bed had motley occupants:  lambs ears a plenty,  a few heucheras, a small orange crocosmia,  a sky scratching phormium put in by a great aunt (this is a garden long-bedded in the family),  the whimsy of a tree fern hiding behind a no-name variegated shrub.  Zinging kniphofia, and saccharine pink and white penstemons.  Spotted laurel rounds off the list of occupants, leaning wallwards next to a rather polite clump of
Echinops ritro
.  Oh, and a mighty spattering of foxgloves, the common kind. What to keep?  It was good that there was an emptyish bed down the garden.  This was ready and waiting as a holding bed  for the unwanted.  Out with a lot of the motley crew.  I kept low crawly plants, those that could be divided up.  So the one clump of stachys and crocosmia got carved and carved and then spread around. My customer had already taken delivery of soil improver.  Weeded diligently, hacked at rock hard ground and then spread the improver around with  liberality.  In a layer 45cm thick and spread so that a bit would get dug in with the new.  As soon as the rejects were dug out, the new ones, painfully small but with the promise to them, took their place. I'd visited severals weeks ago and so knew that two rather difficult plants would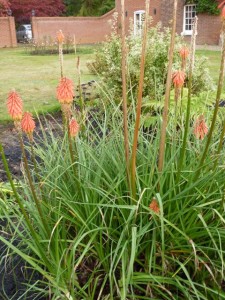 stay and would dominate the planting - the large phormium and the  orange red hot-pokers.  This coloured my plant choice.  I reached for cool soothing blue with 4 different types of salvia and 4 different blue types of blue hardy geranium .  These were to be the fillers along with some quink ink columbines.  Then the show stoppers were added: 
Lychnis chalcedonica
- a true red,
Persicaria m Red Dragon
to spread around and complement the lowering phormium,
Erysimum Apricot Twist
- the perennial wallflower with silvery leaves and joining in with the orange thing going on,
Achillea paprika
, the orange-red form of yarrow and then two very sexy flowers for the late summer:
Agastache r Liquorice White
and
Rudbeckia o Green Wizard.
Where a plant tends to have a spread of less 40cm, we ordered 10 of a variety and where the plant was vigorous, 5 instead.   The plants were set out in drifts.  This will make maintenance a much easier job.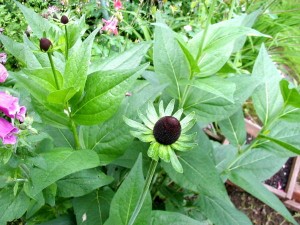 The planting took place in a hail storm.  Now I'lll sit back for late spring to see how these babies settle in.