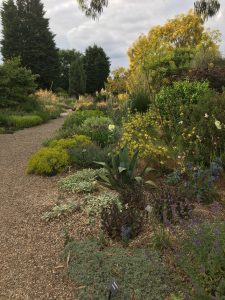 The gravel garden at Beth Chatto is inspired by a wadi or dry river bed. I know this because Dan Pearson told us last week at Essex University where he delivered a lecture for the Beth Chatto Education Trust. The reference is clearly drawn with banks and eddies of planting, separated by a wide gravel path. The scale of the project kept sharp by the background of an evergreen hedge acting as a foil for all light colours planted aft of it. Eucalyptus, Mt Etna Broom and a few shapely conifers anchor the picture.
This part of the garden used to be carpark and was turned over to drought loving plants some 20 years ago. It has been a seminal influence: Hyde Hall and East Rushton amongst many but none have been made with the painterly eye that has been at work here. I love that Beth had a botanist husband to consult so that appropriate terrain is married with aesthetics. In her words: "Shapes and textures matter to me". This is evident to any browser in the garden.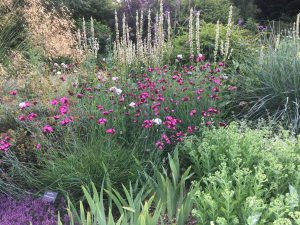 I don't know how many times I have been here (even in the carpark days) but the plant combinations always draw my breath for innovation and placing of different clumps of subshrubs, peonies, skyscraper perennials and whistling grasses. Best of all for learning new subjects too.
This late June visit flipped the following lovelies into the full glare of appreciation.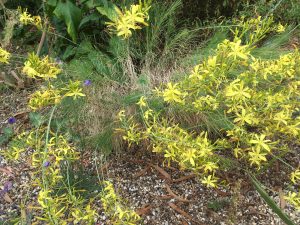 First Asphodeline lutea. When I started gardening I put this name under the heading "I do not want these". I think because I had seen it grow in gawky military style (must have been too rich a soil) Here it is trailing in searing yellow, a fabulous subject for a co planting with Catananche caerulea.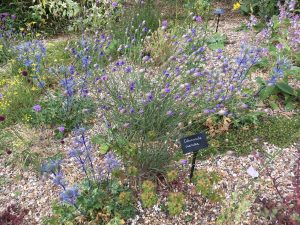 Commonly known as Cupids dart, this has been creeping into my planting plans for sandy soils – and now I have seen it at Beth's I am entranced. So blue, no need for staking and light and airy so that it can weave through Stipa tennuissima and evening primrose. The sea hollies show up well in gravel and they too hog the searing part of the blue spectrum here is Eryngium zabelii.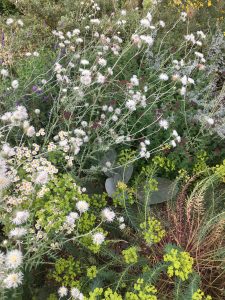 Completely new to me is this Galactities tomentosa alba and a hunt around sends me to Plant World Seed, and I quote: " of the most attractive winter rosettes of any plant. Strikingly variegated 'soft' thistle leaves sprout forth a multitude of purple summer flowers on the standard plant which gently self-seeds in a hot year. This is the incredible albino version of the lovely purple form. Discovered by Dorian Roxburgh on her parent's farm in South West Spain and brought back to England. Sprays of fragrant green-eyed white flowers in long succession all summer. Fertile seeds are few and must be collected individually by hand. "
OK so it is looking like an annual to me. But then my own path down the garden is treading in the annual and hardy annual direction.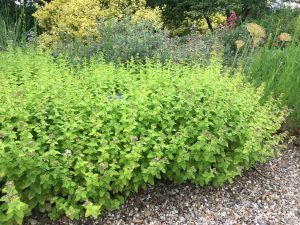 Last of all, two very familiar plants which take a sideways swipe with more unusual forms. Origanum vulgare Thumbles Variety has my vote for low fluffy impact for large borders seen in the distance. The leaves give off the glimmer of borrowed sunlight. The last plant that I eyeballed is a lovely twist on the usual. Salvia officinalis alba. With silver green sheen of pointy leaves, altogether a more classy act than its purple flowering cousin.