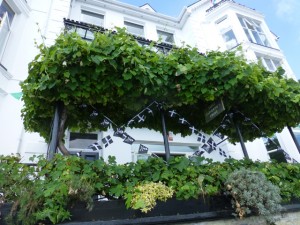 Randoming is what I call going about the place collecting ideas and quirks for the  garden – mine or for customers, come to that.    Small anywhere camera has made this  easy and this summer has harvested some inspiration that I will definitely use.
Here are 4 of them:
1.  The simplest way to make edible shade and resist the fight that broke out in our garden when a sun umbrella took up temporary lodgings here.   Vines are prolific growers.
2. Stop the deer and rabbits munching young trees by wrapping reed screen round the fledgling trunk.
3.  The smallest of all possible ponds.  Scaled down and teaming with oxygenating plants and water boatmen.  A scrap of reflection of sky for even a courtyard garden.
4.  Hide the wheelie bins in a small shed and use the roof for growing sun-loving succulents.
More will follow…