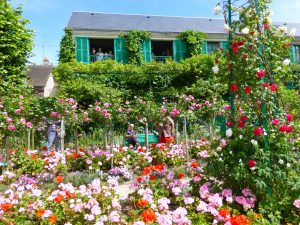 We are at the apogee of the gardening season. The oriental poppies and irises have stormed the classic flower borders. June is it for blowsy blooms, zinging pinks and a heightening of the colour palette. It is good moment to share this trip I made to Giverny, Claude Monet's garden.
Monet's house is pink with shutters of Early Learning Centre green. A strange colour that is daubed about outside: It's there on the Japanese bridge over the lily pond and all over all the ironwork for the roses. We tramp round the rooms and see a little inside the artist's life. 23 volumes of Fleures des jardins de l"Europe in the bookcase, Japanese prints spun over blue walls in a small bedroom, paintings by Cezanne and his coterie hanging here and there. The sun streams in through breton lace curtains.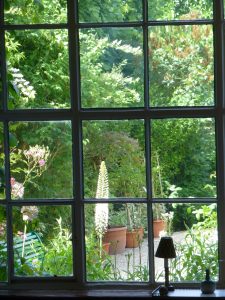 The dining room, oh so yellow, shows off family photographs. Yellow everything – chairs, table, sideboard, ceiling and lights too. Copper pots in the kitchen and a blacked stove to keep the servants busy with polishing. It is difficult to remember that Monet spent his early working life begging friends for money for food and paints.
Prosperity came later and aged 48 he moved into this house. It became his retreat and he spent the first world war painting lilies in the water garden. How amazed he would be to return now and see the house, studio and grounds awash with people. It is the third weekend in June after a long cold spring and we, the sun and everybody else is here. We are part of a swarm, the pupating paparazzi of the plant world.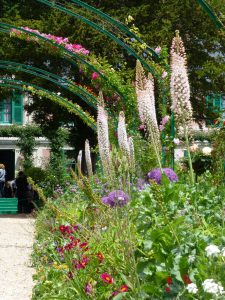 A torrent bowls us through the pink and green tunnel that takes us to the water gardens. At once we are in a surge of cameras snapping and snippets of conversation. Between the calm restrained planting of a bamboo grove and the burnished surface of the lake, motley has broken out. A meld of wild with cultivated – rhododendrons with flag iris, oriental poppies flashing their brash under standard roses. Every corner of earth crammed like a tea trolley. If it had been one there would have been fairy cakes, Mr Kipling specials, tunnets, salmon sandwiches and jammy dodgers.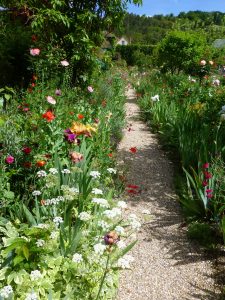 Here is a red corner of lupins, sweet williams, day lilies and azaleas. Away up the hill, through the trees, a glimpse of the pink house. Before us the water: dancing reflections, metallic pads and lotus petals. A swelling and orgiastic frog chorus breaks out. And then of course all the people. Motley and much younger than the UK garden-viewing crowd.
I have been here before. Several years back and the place was empty. But the light was high and flat and for that, the visit pretty flat. Somehow this exuberant planting is enhanced by the brightly dressed hordes. And we had hit the jackpot for flowering season.
.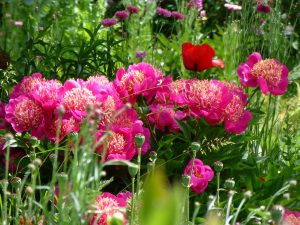 Back through that pink tunnel, the main garden makes you want to burst into song. Old favourites in the perennial palette appear over and over again in different cultivars and colours, iris, peonies, harebells, alliums. Squeezed into any gap and holding their faces up to be gazed at pansies, sweet willliams and cornflowers go rioting through. The planting is so sure. My favourite combination, the pinkest of all peonies with the yellow of Lysimachia nummularia. This was repeated along the bed for harmony. Accompanied by an iris with copper standards and sweet purple falls.
The overall impression is like gazing at turkish delight in the grand bazaar, or peering into the sultans' jewel collection at the Topkapi palace. Away with the theory of less is more. But this garden with air of careless ease must be manicured by the most subtle team of nail buffers. I'm not sure that a single weed had a toe-hold. There is a very big greenhouse and annuals coming on stream are, I guess, popped into empty or 'over' gaps.
There are many places to sit, so many benches in that strange green. We sat under a Paulownia tomentosa dropping its last blue gloves and reminded ourselves that this climate is a little kinder.
When you leave Monet's place, the discovery is that the whole village is a garden on display. Extra mural gardening spills out over walls and onto the verges. We parked in a cherry orchard where the Kiftsgate roses are taking on the outer trees. If you have never been, don't mind the hordes and go now.
For those with a sense of deja vu – yes I did post this some years back but the rearranged website has caused an infinitely minuscule amount of overlapping.