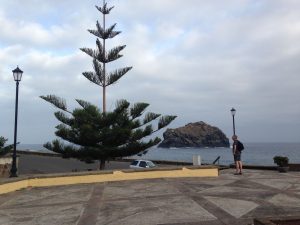 It was mildly provoking to be sent this image of a tree by a holidaying husband. The tree itself was not annoying, the request to ID it was. What I didn't realise at the time was that in a countdown of hours I would be gathering wisps of knowledge from the acknowledged world expert on conifers, Adrian Bloom.
Here he is at the beginning of our tour round his garden, and as you can see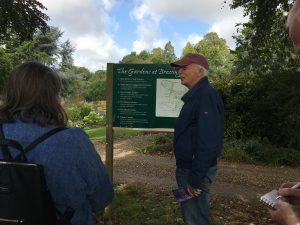 we could not sharpen our pencils quick enough. His book "Gardening With Conifers" is, I know, coming to me. I've marked it up for this winter, when the weather gets the upper hand. As we looked at more and more conifers Adrian expounded their virtues – sure fire qualities of contrast in texture and colour and sometimes to be manipulated and trained – there was for instance a decorative arch of Cedrus altlantica glauca 'Pendula" , a really good form of fastigiate yew without the sideways sag of the usual Irish choice – look out for Taxus baccata fastigiata 'Robusta" or for a bust of colour and wonderful texture you might try Chamaecyparis pisifera filigree "Nana".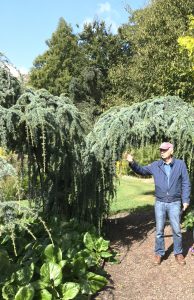 The Blooms are gardening royalty and when they owned their eponymous nursery (where I bought my first grown up perennials) they had on stream about four and a half thousand different plants. I can remember it well as a barely sentient wannabe gardener, tiring the children out on the Merry go round at the Steam Fair in order to get a sneak down the perennial aisles. The nursery has long been sold and barely pulsates as a gardening centre next door to these gardens, so ground breaking and famous from their creation over 60 years ago. I'd forgotten all about them but they are still going full spate and you are unlikely to visit anywhere else 17 acres so intensely and knowledgeably gardened.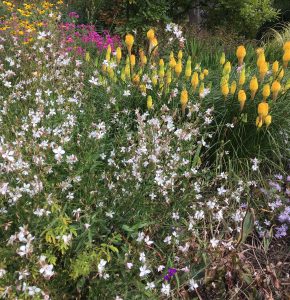 On a garden tour, the untrammelled mind shoots ahead to judge and appraise and mine galloped off to label island beds as dated. But I pushed that thought away and saw instead a riot of perennials – none of which need staking and the only dating feature is that perhaps the beds are not large enough. We were told by Jamie Blake that he had recently been to Oudolf's garden in Hummelo and that Piet sites Bressingham as the place that lit his planting ambitions. He also had anecdotes about Beth Chatto – many of her original plant collection came from Bressingham. Her early morning punctuality is long remembered. This wonderful garden that has slipped from our consciousness, is still there, very much there with striking selections of plants. The whole point of an island bed was to escape the need for staking and this is the entry point qualification for any plant to be in the palette of the new wave perennialists.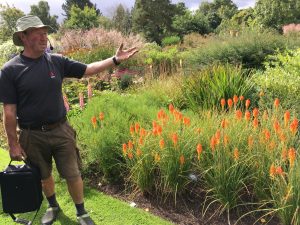 I've already mentioned Jamie: he calls himself curator of the gardens and he floats through his flock of perennials casting a beady eye. He came to Bressingham to work for Adrian's charismatic father, Alan and married the boss's daughter. He wears his knowledge lightly but as we followed through the drift of plants, he scattered nuggets of wisdom which we fed upon like eager chickens. My note-taking reached an over-excited crescendo from which plant names shine out:
Actea simplex Brunette, Miscanthus nepalensis, Knifophia Little Maid, in scribbling haste I resorted to giving them Michelin stars.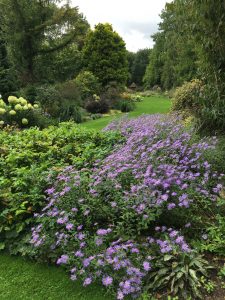 Then there is the Foggy Bottom area of the garden which is Adrian's special preserve. It is now 50 years old and getting regeneration through judicious tree-thinning. It has been gardened beautifully with vistas and sweeping paths and "rivers' of planting. This bit of the garden is really useful as it gives an opportunity to see which perennials and shrubs harmonise with conifers. My note scribbling from this bit of the visit is illegible. I will be going back.